Argentina – part 2
30 September
We spent nearly two full weeks in Buenos Aires over the course of the month we were in Argentina. We really enjoyed the energy and atmosphere of the city and, of course, the food! We knew we wanted our last meal to be someplace special, so we decided to blow our budget (well, not really…) and had an amazing meal, which still cost less than $50USD, at El Obrero in the La Boca neighborhood.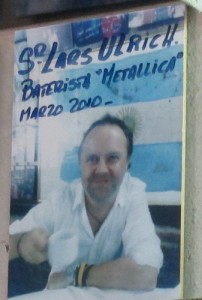 El Obrero is not sort of secret or obscure spot, but it is a bit off the tourist trail and it is a cab ride from most parts of town. Inside, the restaurant's walls are covered with photos of the many, many famous people who have dined there, everyone from Argentinian footballers to Lars Ulrich, of Metallica.
I guess Lars knows his food, because we ate incredibly well at El Obrero.
We ordered all the Argentinian classics so we could go out with a bang. We started with provoloneta, the incredibly tasty grilled hunk of provolone cheese. El Obrero's is thick and crusty and dusted with oregano, almost like a cheese pie. I decided we should have a green salad as well, but I'll be honest, that really was just filler!
For our meat course, Suhail had bife de chorizo (sirloin strip steak) and I went with bife de lomo (filet mignon). While we Americans generally consider the filet to be the best cut of beef, most Argentinians – or any other connoisseurs of parrilla – tend to favor bife de chorizo because of its higher fat content, which makes it juicier and more flavorful. We washed all this great food down with a wonderful Malbec.
The waiters are El Obrero are total pros and the atmosphere is pretty old school. We were told that the place started out as a spot where factory workers in the neighborhood could stop in for a quick, affordable and hearty meal. Today, the crowd is different, a nice mix of locals, a few tourists and some business people. I'm sure the prices are higher now, but the food is still uncomplicated and delicious. Best of all, despite the celebrity photos, the place still feels like a neighborhood joint. It was the perfect end to our indulgent visit to Argentina!
28 September
After visiting the Recoleta Cemetery, we were walking around and realized we'd worked up quite a hunger. We ducked into this little neighborhood spot and Suhail had a choripan and I had an empanada. The food was nothing too incredible, but I loved the retro look of this place.
That night, we finally returned to Bandera Verde ("Green Flag"), the place I mentioned below, to try their carry out parrilla. It was nothing fancy, but probably one of the best parrillas we had in Argentina. Paired with our $9 bottle of Malbec, it was a perfect way to begin to wrap up our time in Buenos Aires.
25 September
We headed over to San Telmo on this beautiful Sunday to check out their famous antiques market. The market was a nice way to spend a Sunday afternoon, but all that wandering around made Suhail hungry. Lucky for him, we came across a choripan stand we'd noticed on our last trip to the area. It's hard to miss because there's always a crowd milling about outside. Serving up cheap, delicious, every-man's kind of food, this is the kind of spot we love stumbling upon!
24 September
Just in case anyone still doubts that you can actually get ice cream delivered here, I am providing photographic proof – from Saverio on Avenida San Juan, right down the street from our hostel (our very lovely, home-away-from-home, Elefante Rosa).
23 September
After all the Argentinian food we'd been indulging in, we decided to check out a spot we'd heard was a hit with "gringos." Oui Oui is a cute little cafe with great salads, sandwiches and other fresh stuff. I had a really good spinach salad that featured a poached egg and Suhail took advantage of the great deal they offered – borscht, salmon with rice, flan and a glass of wine (all for about $10USD!). The food was really tasty and we enjoyed the change of menu and Oui Oui's atmosphere. Maybe us gringos are onto something!
22 September
We returned to Buenos Aires and to one of our favorite spots in Boedo, Bar Cao. We spiced things up by trying a different picadas assortment this time. Yum!
18 September
Our next stop in Argentina was Puerto Madryn, where we hoped to catch a glimpse of some southern right whales and Magellanic penguins. We had an amazing time, surrounded by lots of wildlife. The whales are so close to the shore, you can view them from the beach!
We couchsurfed while in Puerto Madryn, with the lovely Alexa, who shared her home, her doggies and her mate with us for a few days. Here I am, whale watching on the beach and enjoying my first real mate experience. I was nervous I would screw up the etiquette (there are a lot of traditions and what I would call "rules" about mate drinking), but we did not get thrown out of Alexa's place, so I must not have done too bad.
While at the beach, we ran into a couple of Alexa's friends, Gaby and Abel, who graciously suggested we have an asado that evening. It was the moment we'd been waiting for! Time for a real asado with real Argentinians – hahaha. In all honesty, we really were excited because, while the parrillas we'd sampled were great, everyone knows the serious grilling takes place in an asado at home. Abel volunteered to be the asador (grillmaster) as long as Alexa picked up the meat. She asked how much to purchase and he told her (and I know you will not believe me, but I am not exaggerating here) "500 grams per person." For those of you that are not too familiar with the metric system, 500 grams comes out to just over a pound per person! When I laughed out loud, I was told it would shrink during cooking.
Gaby and Abel came over around 8 and we got right to work. There is an art to preparing the coals, which I will illustrate here through photos…
Most homes in Argentina have a built in grill in their backyard (we've also seen them on roofs and balconies!). They are quite different from the gas or charcoal grills we have in the states, but remind me of the grills we'd find in the forest preserves around Chicago when I was a kid. I'm not sure if any of those are left, but we plan to take a look next summer!
You start with carbon (charcoal) that is "vegetable based." From what I can tell, it is fairly close to our wood charcoal (but definitely NOT "charcoal" briquettes!). Much like you would with charcoal, you get the fire raging, as seen in the background here…
Once the flames have died down and the coals are glowing, you dole out a thin layer under the grill itself…
The first course consists of the sausages. In this case, we had a long thin coiled sausage (not sure what it's called so I will use the generic word for sausage – "salchicha"), chorizo and morcilla (blood sausage). Most often, the sausage is eaten as a choripan (chorizo + pan (bread)) or morcipan (morcilla + pan). This is a sort of appetizer while you wait for the beef.
Then, the real meat fest begins. You get a serving of steak that is more than ample and begin eating. They don't really mess around with sides either. We had a simple salad and there was bread for the choripan, which you could also use to sop up the juices from your steak.
As you are eating, the beef continues to come off the grill as the different cuts are ready.
The entire table is offered more every single time, but if you're like me, you've already eaten enough by the time you finished the choripan…of course, that doesn't mean you can't keep trying to eat more! Our asado was delicious, with incredible mastery of the parrilla demonstrated by Abel. We all went to bed with very happy stomachs that night!
While nowhere near as tasty as attending an asado, Suhail's video is the next best thing!
7 September
From Buenos Aires, we went to Rosario, just a few hours to the north. Apparently, Rosario was once known as "Chicago Argentino," due to its history as an agricultural hub and its ties to the beef market of the Chicago Mercantile Exchange (and, as we were told by a local, its history of mafia activity). We learned Rosario also shares Chicago's love of food…
While in Rosario, we tried two things that were entirely new to us – the "pizzanesa" and home ice cream delivery. I am still reeling from the thrill of ordering ice cream at 1am, only to have it arrive at our doorstep about 30 minutes later, but first…the pizzanesa: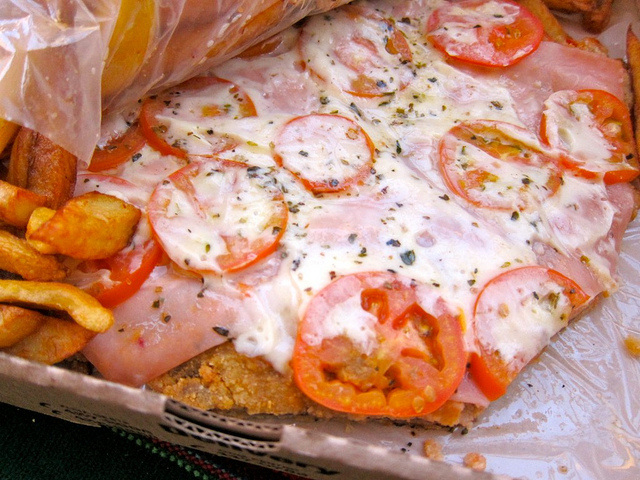 The pizzanesa is a milanesa (a thin piece beef or chicken that is breaded or fried then usually topped with ham and cheese, this is a staple of Argentinian cuisine) topped with ham, tomato sauce, tomatoes and a generous helping of cheese. Thus, the milanesa itself forms a sort of crust for the pizza. Oh, did I mention that it is served with a hearty portion of french fries?
This dish is the sort of gluttonous fare I thought only American fast food companies were capable of creating (Awesome Blossom, anyone?)! It made us feel good to know America is not the only country indulging in such things, and, while it's not something I would eat every day (or probably not ever again) I will admit that the pizzanesa was, in fact, pretty tasty. As far as we can tell, this is a Rosario original that has not caught on anyplace else in the country yet. Hmmm.
Argentinians as a whole seem to love ice cream as much as I do. We were sitting around at our hostel, La Lechuza (one of our favorites in Argentina) on our second night in town, when Barney, the night desk clerk, asked if anyone wanted to order ice cream. At first I thought maybe I didn't hear him right. It was nearly 1 in the morning…what ice cream shop would be open…when I probed further, I learned that not only was the shop open, but they'd be happy to deliver the ice cream of our choice right to the hostel! It goes without saying that I was in.
I was also thrilled to learn that each of us would be ordering our own 1/4 kilo of ice cream, which meant that we could choose three flavors each. As those of you who know me well realize, when it comes to all sorts of food I love trying a variety of things. Because of this, often have a hard time making a decision on just one. When it comes to ice cream in Argentina, it's really tough because every shop has about 40 flavors (I am not exaggerating), many of which are unfamiliar to me. Luckily, having three options made it a bit easier…but the night was about to get even better…
Imagine my sheer amazement and joy when, after a few minutes into our ice cream feast, Barney yelled, "Chancho!" Chancho is a popular card game that involves shifting cards to other players. I hate card games and have only played once, so I don't really remember the rest of the details…in this case, however, it doesn't matter, because the only thing we'd be shifting was our tub of ice cream. What?!?! That's right. CHANCHO, my friends. There were five of us eating…so realize that this meant I would be able to try no less than 15 different flavors!!! What a night…
I have since noticed that pretty much all the ice cream shops in Argentina have a delivery service. Why haven't we thought of this?! Is Chicago ready for such a genius idea???
5 September
After a long wander around Buenos Aires's Puerto Madero neighborhood (a sort of huge, blown out neighborhood version of Navy Pier, but not quite as annoying), we visited one of our regular spots, Havanna. Havanna is an Argentinian chain that first became famous for its alfajores, but now has dozens of locations all over the country, serving everything from coffee to sandwiches and continuing to peddle it's famous alfajores. Their coffee is pretty good and the locations generally have free wifi so, although this place is not a cool, independent neighborhood find, it is very nice for the traveler.
On this brisk, but sunny day, we decided to skip the coffee and try the submarino instead. A submarino is a glass of hot milk that comes with a chocolate bar. That's right, an entire chocolate bar. You simply insert said chocolate bar into the hot milk and wait for it to melt, then, enjoy!
4 September
We had a lazy Sunday in Buenos Aires and thought, "hey, let's eat Sunday parilla, just like all the Argentinos do!" Sunday is generally the day Argentinians get together with their families and have a day of grilling and socializing. We didn't have the option of doing our own parilla, so we did a bit of poking around and found a great option near our hostel, Lo de Rosendo.
We decided to walk there and back (about 40 minutes) to work up an appetite and burn off the feast we knew we'd indulge in. On the way, we passed a carry out parilla place with a line out the door. We were not the only ones who could not resist peering in the window to see the feast laid out on spits over hot coals. Look for future posts because I can see us hitting this spot sometime soon!
After a short wait for a table (during which we watched older gentlemen whisk by with piping hot plates of delicious looking meats), we were seated at a table that backed up to the parilla. It was a great spot on a chilly spring day!
Suhail ordered parilla for one, which is an assortment of typical parilla meats – steak, ribs, chicken,  chorizo, morcilla (blood sausage) and chinchulines (small intestines). I think the "for one" part is subjective, because, in my opinion, it is enough meat products for one person to fulfill an entire week's meat consumption. At any rate, the parilla here was top notch.
I ordered bife de chorizo. The variety I chose (who's name I have forgotten) came topped with ham, roasted red pepper and an egg. Potatoes and onion rings accompanied all this. What more could you ask for?! It was cooked perfectly and also provided more than enough food for one sitting.
3 September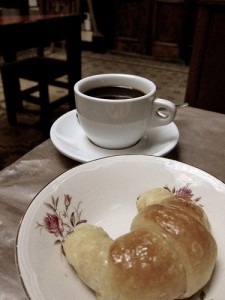 As much as most tourists love the food in Argentina, you will find a common complaint among almost all of them. That complaint is that the breakfasts suck. Usually included in your rate at your hostel or hotel, an Argentinian breakfast is usually very simple: coffee or tea and medialunas, which are similar in texture to a croissant, but glazed with a sugary substance. Occasionally you are also offered plain bread and/or juice (usually more of a Tang than actual juice). Of course, the trademark dulce de leche is always on hand to accompany this.
For all this great food, I think most Argentinians don't actually eat very much, and their breakfast is proof of this. I don't mind it, but I have found myself craving Bongo Room an awful lot recently…coincidence???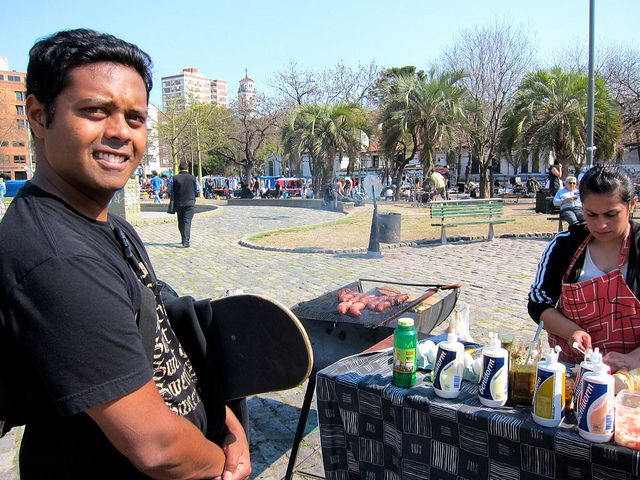 We spent the early afternoon in one of Buenos Aires' many parks. Suhail skateboarded and I enjoyed the beautiful day. When we got hungry, we made our way over to one of the many food carts. They were many, but all offered the same thing – panchos (hot dogs) and choripan. We'd enjoyed choripan in Chile, but had not yet tried the Argentinian version. Their sausage is great, but not as finely ground as the Chilean variety, which I don't really enjoy as much.
After that, we headed back to the hostel to drop off Suhail's skateboard and get our plan for the rest of the day together. In order to clear our heads so we could think better, I suggested we head over to the local landmark ice cream shop. Savarin has been in business for over 100 years and served up some of the best ice cream we've had yet. Suhail had Cookies & Cream (his usual) with a "bano de chocolate," which is pretty much a dipped cone. I had ristretto granizado…. (coffee with chocolate flakes, which, by the way, are so much better than chocolate chips – none of that hard, waxy texture that comes with freezing chocolate) and dulce de leche with brownies – yum!
Later in the day, we wandered around the San Telmo neighborhood, since we had to walk off all this food somehow! This is a once-chic neighborhood that hit rough times when various plague-like illnesses broke out. More recently, the neighborhood has had a rebirth with the artist and gay urban pioneers that generally lead to the gentrification of a neighborhood. Today, San Telmo is known for antique shops and a weekly (Sunday) market and tourists just love it. So, when our walk to burn off some of that food we'd eaten earlier in the day eventually made us hungry, we weren't sure we'd find a decently priced place that served anything we'd be excited about eating.
Finally, we decided to get a beer at  a place that looked good, but not like it was trying too hard. Imagine our (not entirely unpleasant) surprise when we realized this place was owned by the same owners as Bar Cao, where we'd eaten the night before! We drank our beers and then decided to order some picadas and wine. As I explained in our first Argentina food post, picadas are sort of over-the-top cheese and cracker platters. I would also argue they are one of the highlights of dining in Argentina.
The selection we chose had Gouda cheese, salami, ham, capicola, pickled tongue, black and green olives and house-made matambre. The matambre was ham rolled around vegetables, cheese and hard boiled egg. This is not generally the sort of thing I get excited about, but it was something different and I really enjoyed it.
2 September
On our second night in Buenos Aires, we asked Diego at our hostel, Elefante Rosa, for a restaurant recommendation. Elefante Rosa is not in a touristy neighborhood, so we were happy to try the spot he recommended, just a few blocks away.
Bar Cao was formerly a general store that is still run by the original owners, but now serves picadas and a variety of traditional Argentinian dishes.
Suhail tried the burger, which was a nice, gourmet style, and I had the house-made Calabasa ravioli, which were also very good. I also ordered a glass of house wine, which was delivered as an entire bottle. I am not sure why I didn't just correct our waitress when she arrived at the table, but with my subpar Spanish, I just assumed I'd said something that sounded like "botella" instead of "copa" – even though that's a stretch. At any rate, the house wine was very good and Suhail helped me finish off the bottle.
1 September
After our tasty jaunt back to Santiago (more on that here), we were ready to dig back into Argentinian cuisine in the nation's capital, Buenos Aires. On our first day, we decided to head to a local place across the street from our hostel. We ordered one with salami and another with anchovies. Every variety seemed to come with green olives, which were tasty, but, as you can probably imagine, added quite a bit of salt to two pizzas that really didn't need it! Nonetheless, we enjoyed them both.
That night, we enjoyed the infamous Argentinian digestif, Frenet Branca & Coke. This is another Argentinian favorite that a lot of tourists aren't into, but our Mendoza hosts, Diego and Luli had showed us the proper preparation method and we really enjoyed it.
Frenet, like Gancia (another popular apertif that is sometimes served in a milkshake…we tried and liked it with Sprite on one of our luxury bus rides, but I'll be looking for the milkshake variety!), is a result of Argentina's Italian heritage. These beverages come from Italy, but are probably more popular today in Argentina than in their country of origin.
Frenet has an herbal, slightly anise-y, flavor that I don't think would be too delicious on its own, but mixed with Coke, it's delicious. A perfect beverage before or after a meal.
I am pretty sure you can find Frenet in the States, so if you want to try it for yourself:
Fill a glass with ice
Add 1 part Frenet to
2 parts Coke
Take a look at your drink. It should have a nice creamy head, which always reminds me of a Guinness. If so, you've prepared your Frenet and Coke correctly.
Enjoy!