Thailand – Take 2
Chiang Mai (27 Jan – 8 Feb)
8 Feb
Thai-style roti on the street before we catch the overnight bus back to Bangkok:

7 Feb
We took the plunge and checked out the kao soi joint I read about on the blog I mentioned in my post below. Although I was worried Lamduan would not live up to my high expectations (based on my first encounter and the praise the blogger heaped upon the place), Suhail and I were both very impressed with their rendition…so impressed in fact, that we returned the following day (our last in Chiang Mai) so we could enjoy it one final time before heading south.
The first visit, I stuck with the spare ribs variety (Suhail had beef) so I could fairly compare Lamduan's to Cafe de Nimman's. While both were delicious, the Lamduan version is somehow more subtle. It has less of a creamy broth (although still rich and delicious) so the spices stand out more. On our second visit, I tried the pork, but the spare ribs was still my favorite.
It is hard to do kao soi justice with words and although I was not raised on Thai food, this is the kind of dish I imagine adopting as comfort food. Warm and hearty with a bit of a kick, it would definitely shake the chill out of a cold day. Absolutely delicious, it hits all the marks as far as I am concerned!
6 Feb
Back to Bakerista for their macademia toffee cake – mmmm.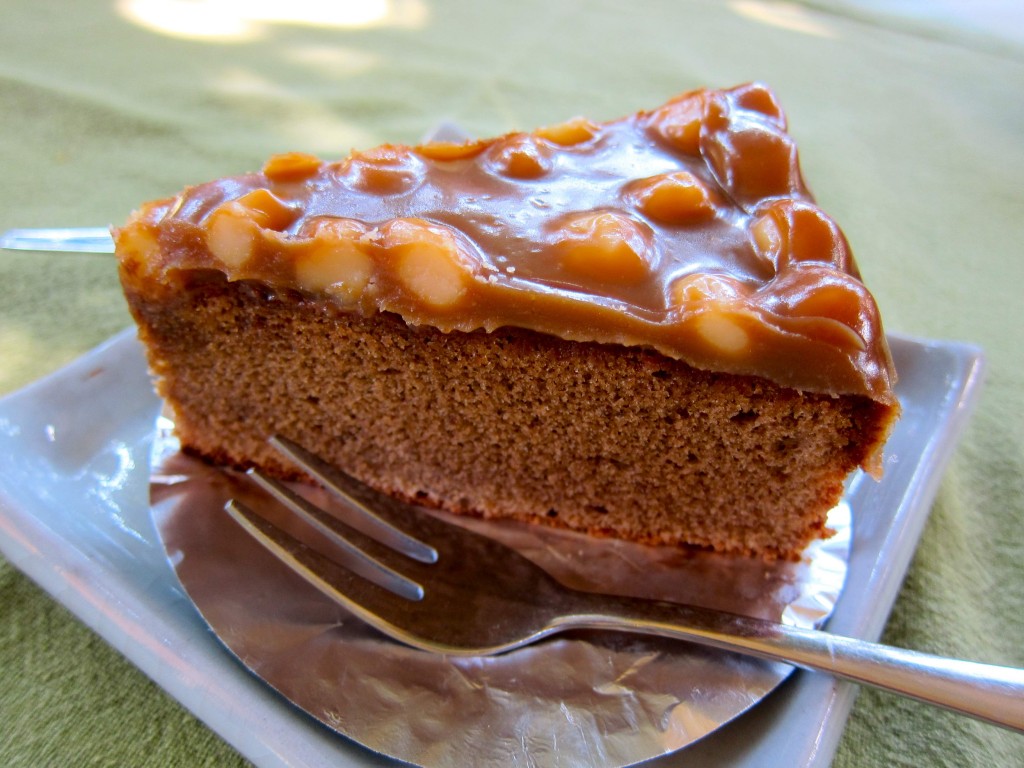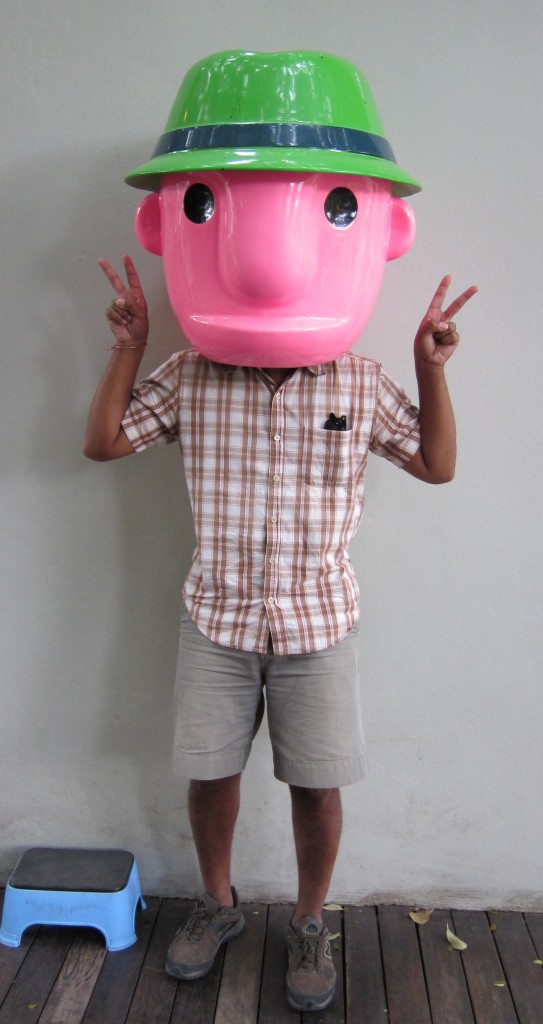 Not only did we have cake for breakfast, we paid a visit to one of the coolest places we've discovered in Chiang Mai, iberry. It is basically a home made ice cream shop set in an art gallery like atmosphere. The ice cream is delicious and the surroundings are a lot of fun. The Thais love to take photos and the cameras are out, with all kinds of cheesy poses all around. Suhail even got into the swing while we were there.
And I will admit…ahem…we have visited iberry more than once since we've been in Chiang Mai.
Feb 5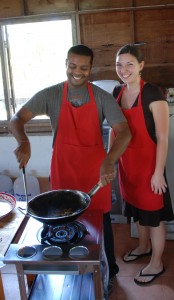 This day was actually all about food because Suhail and I took a Thai cooking class at the Thai Farm Cooking School. After a stop at a local fresh market, where our instructor showed us some of the key elements of Thai cooking, we spent the entire day cooking and eating! The setting was an organic farm, so not only was it nice to learn how to make some of the food we have been enjoying, it was a nice chance to get out to the beautiful countryside.
I am planning to devote an entire post to the day's activities, but here's a dorky photo of me trying not to give advice/interfere with Suhail's stir frying.
4 Feb
Suhail and I drove about 45 minutes out of town to check out the Queen Sirikit Botanical Gardens. I knew it was strawberry season here, but hadn't had the chance to partake in any of the bounty. On the way there, I noticed this roadside stand, so we stopped on the way back. I have not had strawberries this fresh since I was a kid and we used to visit Thompson Strawberry Farm in Wisconsin! Unlike the Wisconsinites, the Thais sell them complete with a packet of sugar and dried chili flakes. So fresh and tasty!
For dinner, we ate in the night market. I had a dish we have eaten so often in Thailand, roast pork and rice. It differs a bit from vendor to vendor, but you can easily find this dish in the market by looking for a steaming hot pile of pork, with a tower of oddly colored hard boiled eggs standing by (we are not sure what the eggs are boiled in, but they are a brown, saucy color and taste so good!
3 Feb
On this night, I had the pleasure of finding my favorite dish of the trip so far!!! Although it is apparently of Burmese origin, kao soi is a Chiang Mai specialty and this particular version exceeded my expectations. It is a coconut milk based curried noodle dish that comes with a bird's nest of crispy noodles on top – the one I tried also featured incredibly tender short ribs.
While gathering info for this post, I stumbled across this interesting article, and I think I am now inspired to go off in search of more kao soi (although I am a bit reluctant since I doubt any others will stand up against my first!).
2 Feb
I actually convinced Suhail to join me for a 7:30am yoga class which we were, of course, starving after! We stopped at a great soup shop on our walk home. Since it was first thing in the morning, we lucky to be able to watch this young man (I believe the owners' son) prepping the day's meat.
For lunch, we stopped by Bakerista, which is a cute cafe across the street from our hotel (which is a real treat because we are in a mainly residential area) that also happens to have delicious food.
….and you really have to get dessert, since it is a bakery after all!
1 Feb
31 Jan
30 Jan
We normally eat on the cheap, and in Thailand, that usually means in a night market, sometimes sitting on plastic stools at a little table and sometimes on foot. Tonight we decided to try a recommended restaurant near our hotel (Hong Tauw Inn) and once we got there, we decided to really splurge and order the set menu for two at a whopping 440 baht (about $14 total for two). It was well worth it, but I think we'll be eating in the night market for a while now to make up for our indulgence. Here is what we ate:
29 Jan
Suhail and I visited the Wulai Walking Street aka Saturday Walking Market. This is not the type of night market we normally frequent, since it is more for buying trinkets, t-shirts and other touristy stuff, but we decided to check this one out. Not only did we actually buy a few things, we also found some great food vendors! I don't have a photo of the waffles we ate, but they are so good – you choose your filling (from options like raisins, coconut, cashews (Suhail) and bananas (me)) and then the vendor whips it up for you right there. You are served an incredibly piping hot waffle to enjoy as soon as it is cool enough to stand without getting third degree burns on the roof of your mouth. Delicious!
27 Jan
Bangkok (22 Jan)
We are back for more of Thailand's great food, friendly people and amazing landscapes. Bring it on!
Sometimes when you are far from home, you are happy to see familiar chains and their familiar offerings…like when you are spending the night in an airport in Bangkok. Say what you will about Starbucks, that latte tasted pretty damn good at 4:15am!