Mekong Delta, Vietnam, Day 1 – 4 Jan
The Mekong Delta – Day 1

Our day began early as we boarded a minivan in Ho Chi Minh City and set out for the Mekong Delta. Tours of the Mekong Delta are an incredibly popular part of most tourists' visits to Vietnam and can be had for as little as $30 for two days guided touring (including food) and one night's accommodation.
It's also easy to shop around because all of the travel agencies are in in the heart of the tourist district, in an area of about 2 square blocks. You simply walk around and inquire in any storefront you like and then try to sift through all the details and figure out what you're really getting for your money. We checked out about five different places before we found one that had the right combination of itinerary and price. We spent quite a bit more than $30, but we also saw a part of the Mekong that no other tour companies visit. After we'd been on the road for an hour or so, we made a stop at a rest area and had our first bit of reassurance that we had made the right choice.
The cheaper tours pack you on a bus of 50 people and before shuttling you to all of the same sights in the Mekong as the 40 or so other companies' buses of 50 people. Our company (Innoviet) stopped at the same rest area as these tours (so we saw just what 40 buses x 50 people  looks like), but that was where the similarities ended. We, along with 6 others,  stayed in a Vietnamese family's home in the Ben Tre area of the Mekong. We also visited a different floating market than Cai Be, which is now a market that is mainly for tourists, as opposed to the market where all the locals actually shop for their daily necessities. The only other tourists we saw the entire two days were four others who were also traveling with Innoviet. Needless to say, we were really happy with our decision!
We were driven most of the way to our home for the night, but needed to board a ferry and then walk a few minutes to our final destination. After arriving at our homestay, we were greeted by our host and fed an excellent lunch (more on that and the cooking class mentioned below here).
We then set out on foot, back to the ferry and across to a bike shop of sorts where we got our wheels for the afternoon (the biking portion was another reason we chose this particular tour).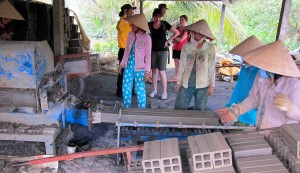 The tour took us to a brick factory, which would prove to be a reoccurring attraction in Vietnam, though I'm still not really sure why. I did take several photos if for no other reason than the fact that my dad has a masonry company, but maybe you will find them interesting as well (…or, maybe not!).
We rode around the area on road and a network of paths between rice paddies and homes. It was really amazing to have this perspective on the Mekong Delta and we were quite the sensation with the locals. There was a chorus of "Hello! Hello!" everywhere we rode, and we were literally ambushed by these girls while crossing a bridge in their neighborhood. It was really fun for everyone involved.
As the afternoon drew to a close, we got on the ferry once more, returned our bikes and headed back to the homestay, where we were to have a cooking class. While others mysteriously fell ill or simply disappeared when the time to cook came around, I really enjoyed the opportunity to help our host out in the kitchen and possibly learn how to make a few simple dishes. It turned out that she had already prepared two or three without us, but we did learn how to make great spring rolls and fried rice.
Video and details on what happened on day 2 coming soon…