Thailand
Koh Lanta
In Koh Lanta, you will actually not find all that many wandering dogs. This is due in large part to the work of one woman. Junie Kovacs owner of Time for Lime, a cooking school, restaurant/bar and guesthouse in Koh Lanta, founded Lanta Animal Welfare to combat the problem of strays on the island. The welfare society promotes spay/neuter, treats injured and sick dogs and is just a wonderful organization. While we were in Koh Lanta, we enjoyed some delicious drinks at the Time for Lime bar and saw Junie "walking" a rescued monkey!
Ayutthaya
I caught this furry guy after his owners had just given him a little tub of ice cream – even our spoiled dog doesn't get ice cream, so Thai people must really love to indulge their pets!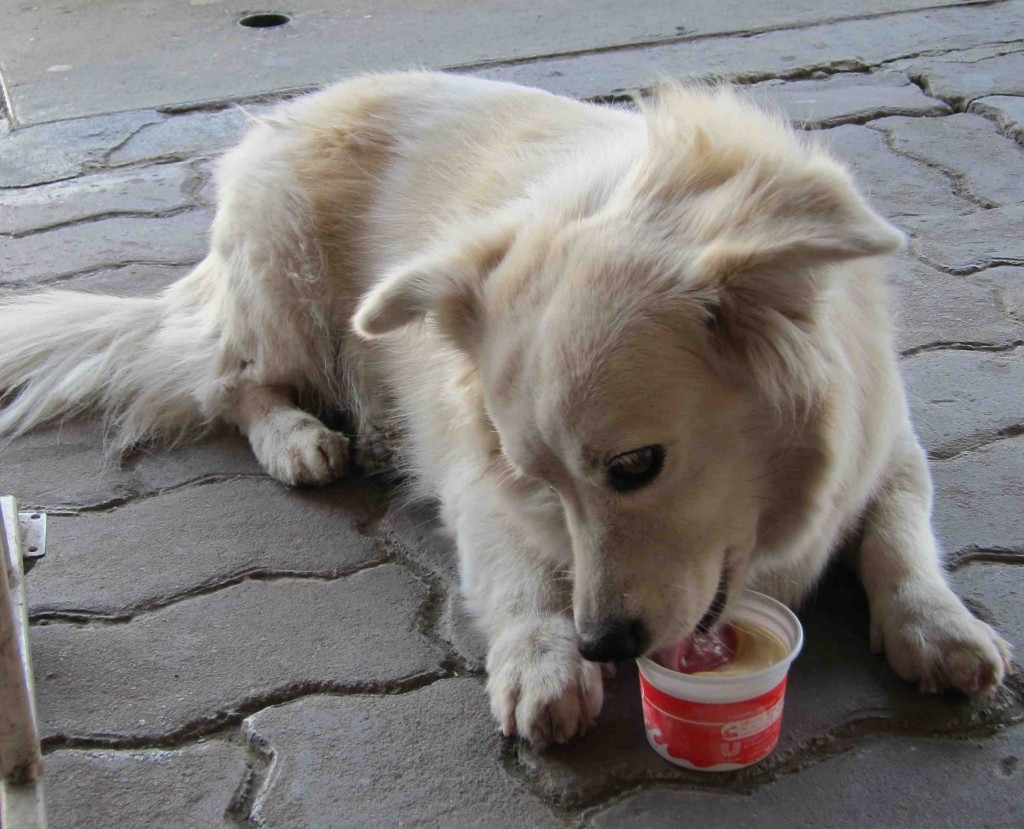 While walking around Wat Mahathat, one of Ayutthaya's many ancient temple ruin sights, we came across the most adorable collection of dogs.
There were some playful puppies that I fell in love with right away. I am sure you will agree – they were just so cute!
As we were getting ready to leave, we saw a woman and her daughter arrive with bags of food for the temples resident dogs. While these dogs weren't exactly homeless, they rely on kindness of the monks and locals like these two ladies. They dogs clearly recognized them the minute they arrived. Maybe not the best life for these guys, but at least someone is looking out for them…
Chiang Mai
We stayed at Penny's Place in Chiang Mai, one of our favorite hotels of the trip. In addition to being just a nice, friendly place to stay, Penny's had the added bonus of a puppy shop right down the street. We got to walk past puppies in the garden EVERY time we left to go ANYWHERE! What could be better than that?