Road to Saigon & New Year's Eve – 30-31 Dec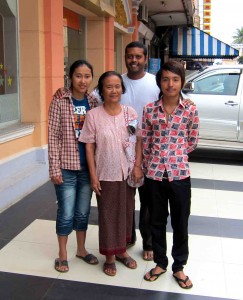 We didn't want to be in transit for New Year's, so we left Kep on December 28th and headed back to Phnom Penh for a brief stay before boarding yet another bus for the (hopefully) six hour journey across the Vietnamese border and into Saigon. We were able to say goodbye to our friend Sopheak's family (though DMong was in Sihanoukville himself at the time).
We left early the following morning, and after a brief ride on the bus pictured here, we were transferred into a proper coach and it was smooth sailing the rest of the way.
The first night in Saigon, we couchsurfed and our lovely host, Ellen, lived in the midst of the main tourist area of the city. This has its benefits and drawbacks, but overall, it provided us with a real crash course in dealing with the craziness of Ho Chi Minh City and the tourist trail through Vietnam.
We found a great pho place that actually wasn't touristy, even though it was right on one of the busier corners in the district. We started our New Year's celebrating that morning with some excellent pho.
You may have already seen our NYE post from Ho Chi Minh City, which covers the highlights of the evening, including a bit about our dining experience (scroll all the way down here). However, I thought I'd give a bit more insight into how we spent the last night of 2010. After departing our couchsurfing spot, we splurged and stayed at the nicest hotel of the trip, Hotel Ma Maison, Saigon. It is a lovely family-owned place that is (thankfully) not located in the tourist area of the city. We had planned to have a quiet night in that neighborhood going out for dinner and then having a couple of drinks together. After a short discussion with the owner of the hotel, we were convinced to instead eat at a local place and then head into town to share the occasion with tens of thousands of our closest friends. It ended up being a great night and we were so glad we did!