Vellore (16-17 Oct)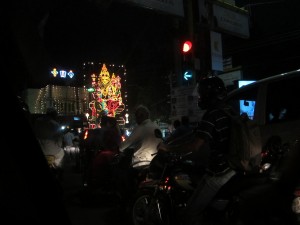 We arrived in Chennai on Oct 14, but only stayed at the ashram founded by Suhail's aunt (more on that later) for a short while before heading off on our south Indian road trip. Our first stop was Vellore, Suhail's mom's hometown, about 3 hours from Chennai. An old family friend, Mr. Pondian, hosted us. He and his lovely family really made our visit special.
That day, the saraswati puja was going on, so there was a lot of excitement and special activity throughout the city. For this puja, devotees pay homage to the tools and instruments they use everyday, so for the following week or so, we saw evidence of blessings on cars, elevators, computer monitors and pretty much any other device imaginable.
After one of the best meals of our trip, prepared by his wife, Pondian first took us to Vellore Fort. This fort includes a very interesting, very old Hindu temple (built in the 16th century), known as the Jalakanteshwara Temple, and is surrounded by a moat. Although we are not Hindu, we were permitted to enter all areas of the temple (which is not always the case).
Can you spot two different animals here? You should be able to see both an elephant and a bull, depending on how you look at it. Pretty cool!
We next went to the Golden Temple, which was incredible for different reasons. The Golden Temple was only built in 2007 and is made almost entirely of gold. We were told it was largely funded by donations from Canada. The whole organization is obviously very well known and very well funded. Check out their website to get a bit of a taste for what I mean!
Knowing it would be incredibly crowded, Pondian asked us if we would be willing to wait an hour and 1/2 or more to enter. We were fine with that, but upon arriving, Pondian's brother in law was working there and got us VIP access – which meant there would not be much waiting at all. I can only think British Airways must have let them know to important Club World members were on their way! We got the red carpet treatment, hopping queues and being allowed to sit before the main shrine, which was viewable only from a distance to most visitors. I felt a bit guilty about that in particular, since we are not even Hindus, but Suhail and I both greatly appreciated the opportunity to take a break from the intensity of the masses and sit quietly with a brief moment to ourselves in such an incredible place. While we sat in the heart of the temple, undercover of the gold dome, we noticed an unexpected rain falling into the pools surrounding us, bringing welcome relief from the hot, sticky night air. Unfortunately, photography is not allowed in the Golden Temple, so I cannot share any visuals, but it is not really possible to capture an experience like this by camera anyway. Amazing!
More photos from our visit are on Flickr