Big Buddah (26 Nov)
On one of our last days in Phuket, Suhail went on a skate mission while I was fortunate enough to take a trip to visit the Big Buddah along with my new friends from Norway, Sunny and Espen, with Pui from Sansuko Ville as our guide for the day.
Sitting over 145 feet tall on a peak 1/4 of a mile above sea level, the Big Buddah can be seen from nearly any place on the island. The site was virgin forest before construction of this Buddhist monument began 10 years ago. To reach the site, you take a very windy road up to the summit, where you are reawarded with an incredible view of Phuket. Although it's a pretty large city, the peaks in the center of the island are still very green and the views of the bays are incredible.
Construction continues at a slow pace and, although admission to the site is free, there are many opportunities to make donations to various aspects of the project. I chose to purchase one of the smaller marble tiles that makes up the Buddha. After purchasing the tile, you write a message/wish on one side. Buddhist or not, it's a very nice idea and it is just a small way to help this massive and impressive landmark towards completion. Many visitors purchase bells, so the sounds of gentle chimes fill the air as you climb the steps to the Buddha.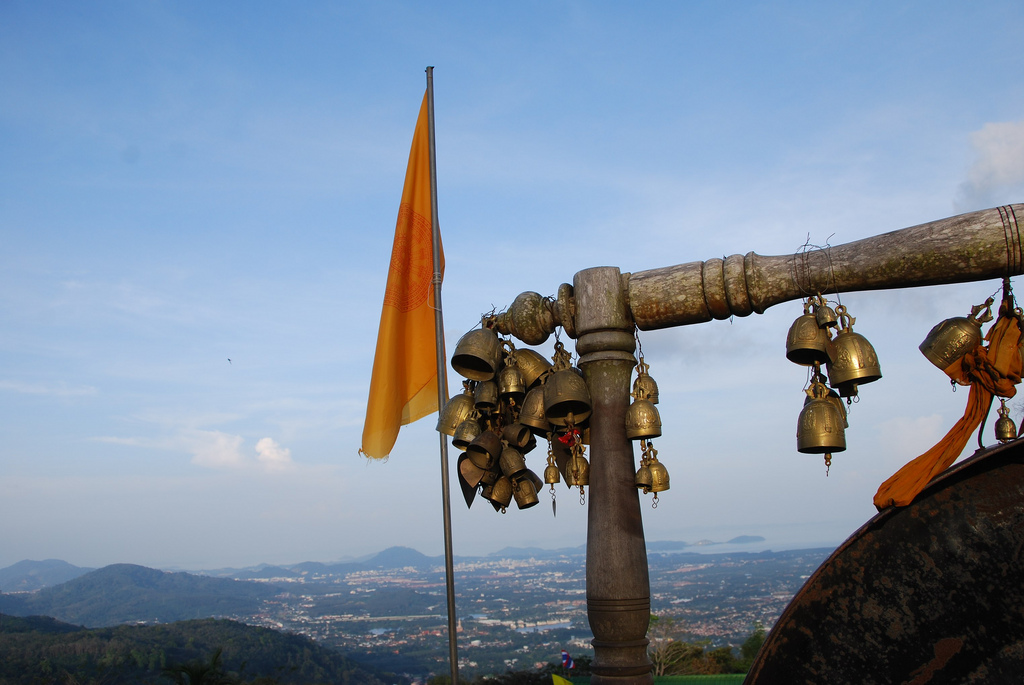 In addition to the Buddha, there are other spots worth checking out while you are there. It takes a special touch and only certain people (not me) can figure out how to make this Thai gong "sing." Sunny had the magic touch. Not only was the weather and view fabulous, it was very interesting to see something so breathtaking while it is still in the construction phase. Hopefully I will be able to return to see it completed someday! For more photos, click here.