Hong Kong
12 Mar
Hong Kong was a great way to ease out of our 5 month fling with the cuisine of Southeast Asia. As a major world city, we knew we would still be able to find good Vietnamese pho, but also seek out a decent cheeseburger if the urge hit us. While it was a little bit exciting to think about eating all of our favorite western foods, it was a little bittersweet as we thought about leaving all of the hundreds of street carts, stalls and stands that we'd met over the past nearly half a year. Luckily, Hong Kong is known as a city that eats, so we got over our tears pretty quickly!
We arrived in Hong Kong late in the evening after a long day of travel from Bali (via Singapore). One of the foods I was most excited about was dim sum. My only exposure to it had been in Chicago's Chinatown, so I was anxious to see how our hometown version compared to the real thing. We first visited about a block down Nathan Road from where we were staying. The highlight of this meal was a dish we only ordered when our waitress sort of insisted – xiaolongbao. These little dumplings are basically little purses of delicious broth. You pop the whole thing in your mouth and are pleasantly surprised to find a bit of soup conveniently distributed in your mouth. Delicious!
It was not at all touristy and the prices were good. It was also in a mall and not a family-owned type of place, so I had my reservations. We ended up pleasantly surprised – the food was great and the prices were affordable. In the end, we also tried Maxim's, which we'd read about online. As you may have guessed, it was touristy (I mean we did read about it online!), but the food was pretty good. It was more classy, but we found it  not as good a value for money as our first spot.
Maxim's is also one of the last couple of places in Hong Kong that still has roving carts. This is the standard method of service at the Phoenix, our favorite spot in Chicago. Basically, each server (always a woman), drives her cart around the dining room, sometimes indifferent, other times barking at you to order whatever it is she's peddling. In either case, you can get a good look at the offerings before you decide to buy, so to speak. It is helpful since our Cantonese isn't really existent (we needed a lot of help at the first place). Once on the table, however, the presentation is pretty much the same – delicious steamed delicacies in bamboo or fried morsels on a china plate.
13 Mar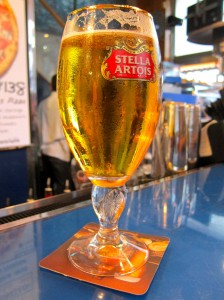 One nice thing about being in Hong Kong is that we could enjoy some familiar favorites. At an English pub in the mid-levels, Suhail enjoyed the largest Stella I have ever seen. I guess it must have been an Imperial Pint, but it looked just gigantic compared to the wee glasses we get at home.
Since I am pretty much obsessed with ice cream, I try to sample some of the ice cream in each country we visit. Ice cream is not that popular in Asia, but you can always find international companies like Wall's or Nestle selling ice cream in local flavors in 7eleven or other convenient stores. In Hong Kong I tried a sweet potato and ginger ice cream bar. It wasn't as tasty as I'd expected, since I love ginger and sweet potato, but it was pretty good.
14 Mar
One day, while exploring the midlevels area, we stumbled upon Gage Street. This street pretty much has it all. Like a metaphor describing all that is Hong Kong, western chains like 7-Eleven and Pizza Express dot one end, a fruit market spills out onto the road on the other and Chinese bakeries and other traditional Hong Kong dining establishments like The Dragon, whose roast duck and suckling pigs fill the window and beckon to passerby, fill in the blanks.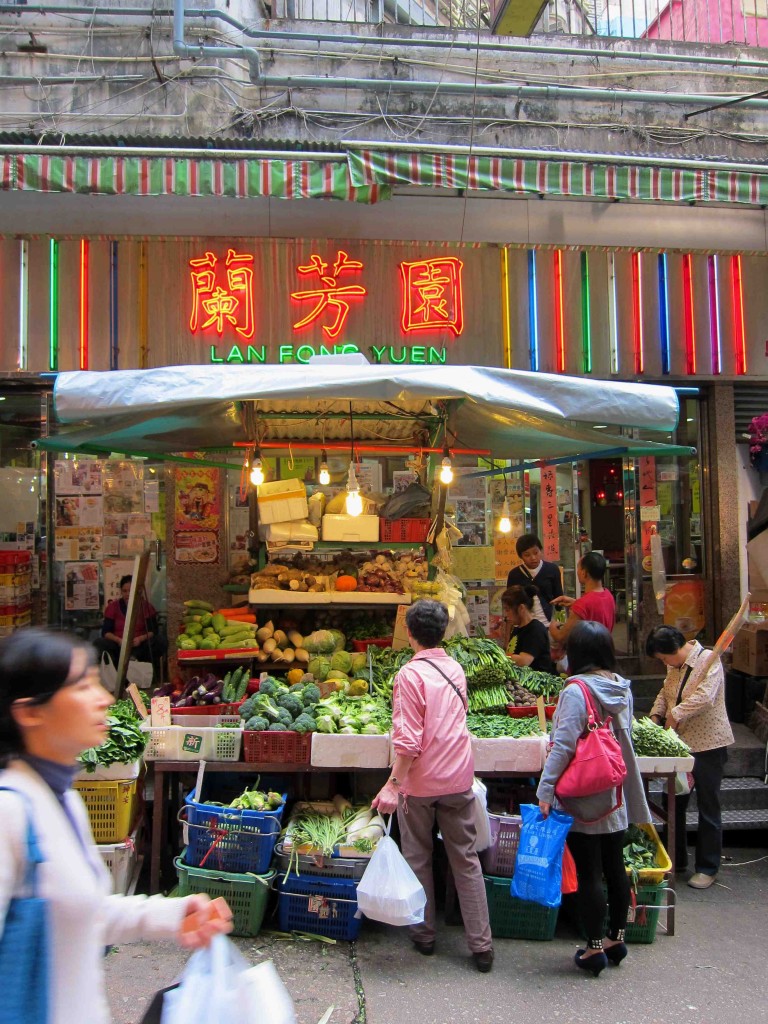 The first time we stopped by, we weren't really hungry, so we ignored those ducks and pigs and stopped at Lan Fong Yuen. At the time, we did not realize what an icon this place is, but just noticed how odd it was that there was a tea stand right in the middle of the road.
We opted to dine in and enjoyed the retro (not retro-chic, the decor was just old!) ambiance of the cafe. Their specialities are Hong Kong milk tea and pork chop sandwiches, so we tried both. The sandwich was pretty simple, but tasty and the tea hit the spot. It is similar to Indian chai, but without the masala spices – black tea mixed with hot milk and strained through a nylon sock, served piping hot. Tastes much better than it sounds!
Another food area which we "discovered" and visited twice was Stanley Street. We'd read about night markets in the mid-levels area, but never really found any that fit what we were picturing after our time in SE Asia. Stanley Street, however, was like a wonderland to us. It is lined with restaurants, but the real action is in the middle of the street, which the restaurants fill with tables, chairs and makeshift kitchens. We ate well on both visits, but what brought us back was the pot roast stew. I don't even really like beef, but this was one of the most amazing dishes I have ever tried. It was slow cooked, with a rich broth, and the meat was tender and delicious. I even enjoyed the tripe, which somehow just tasted like nicely textured noodles or something.
On Stanley Street, there are also beer girls, who dress up in ridiculous outfits (think of the St. Pauly girl time traveling into the future, complete with metallic skirt) and cruise around making sure your glass does not go dry. We drank Blue Girl Lager, which was a decent, light brew in the style of most Asian lagers.
16 Mar
Since we ended up extending our time in Hong Kong, we also had the chance to explore the area near our hotel. We'd heard about a night market on Temple Street, so, of course, we had to check it out! We found it pretty easily, but could not decide on a restaurant (again, like Stanley Street, the market consisted of restaurants with al fresco dining on the street, which was closed to motorized traffic). The restaurants all looked pretty much the same and the prices seemed high (maybe we'd spent too long in SE Asia???), so we could not decide.
We wandered around a bit and came across a sort of sweat shop where they were cranking out carts full of these little clay pots. "Weird," we thought, but we couldn't see any area where one could enjoy the delights found inside these clay pots, so we walked on.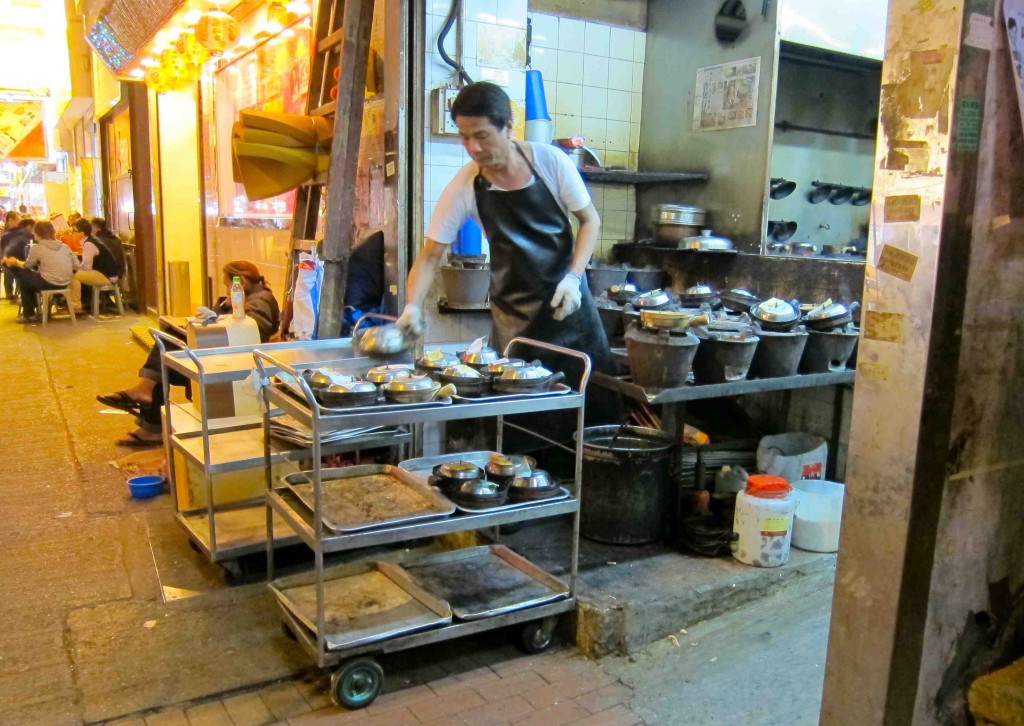 After looping around onto the neighboring block, we found the very restaurant where the clay pots were headed – Four Seasons Pot Rice. It was hard to miss, since the line outside was a dozen people deep. Our general rule of thumb is that that many locals can't be wrong (or if they are, we're at least going to find out for ourselves), so we hopped in line and watched in awe as cart after cart piled high with clay pots was delivered to hungry patrons.
After about 10 minutes we got our own table and ordered: deep fried oyster cake to share, sliced beef with rice (Suhail) and sliced pork with rice (me). I'll admit, the photos don't do much for these dishes, but they were excellent. Our neighbor clued us in to adding whichever sauces we wanted and then putting the lid back on to incubate it a bit longer. Getting the lid off and on proved easier said than done, however – the handle was incredibly hot and no napkin or towel is provided! The entire experience was so great…really, the thing that makes travel so fun – and yummy!
18 Mar
This day, we – and our appetites – returned to the Dragon Restaurant on Gage Street. We had wanted to try it ever since we first stumbled onto it, so our expectations were pretty high at this point. We both ordered the roast pork and rice. It was good (especially the crunchy skin parts), but I think we were both a bit disappointed. It was ok, just lacking that special something.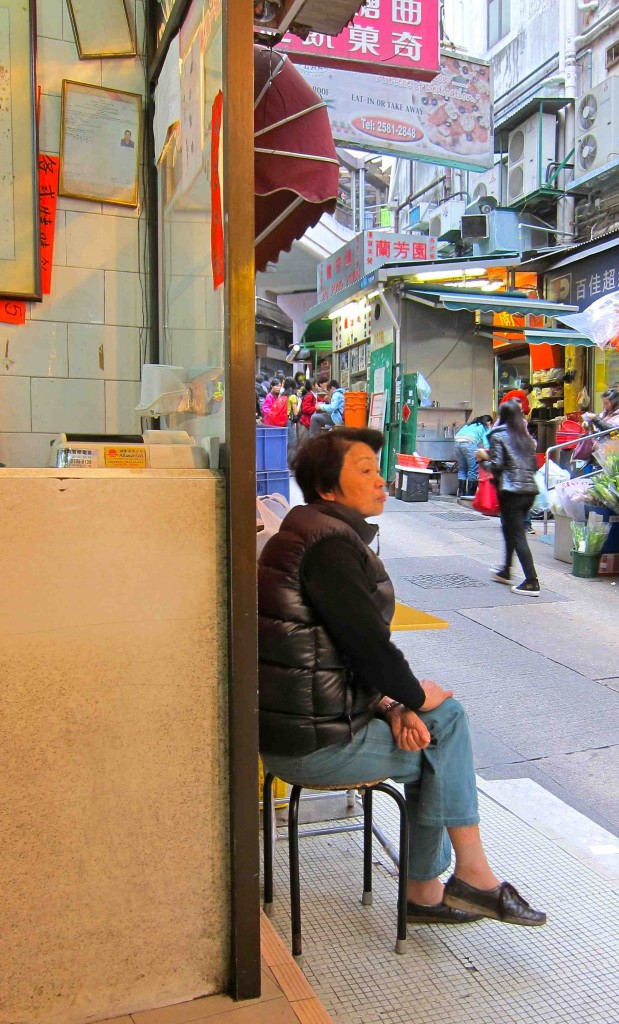 What did make the visit worthwhile, however, was this crazy lady, who sits like a gargoyle at the restaurant's entrance, criticizing and making fun of tourists and locals alike as they pass by. I don't know Cantonese and from what I could tell, she didn't know English, but her mocking tone of superiority was universal. One of the restaurant's employees chatted with her for a moment and then walked past our table and said, "crazy!" while circling his finger around his ear. Also a universal, I guess!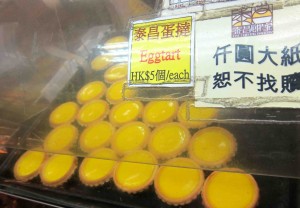 From the Dragon, we walked a few blocks to Tai Cheong Bakery, a Hong Kong icon that is known for its egg tarts. They did not disappoint! The crust was crumbly and not too sweet and the custard had the perfect gooey solid quality that is so hard to achieve. Even Suhail, who is not much of a sweet eater, had to agree on their tastiness.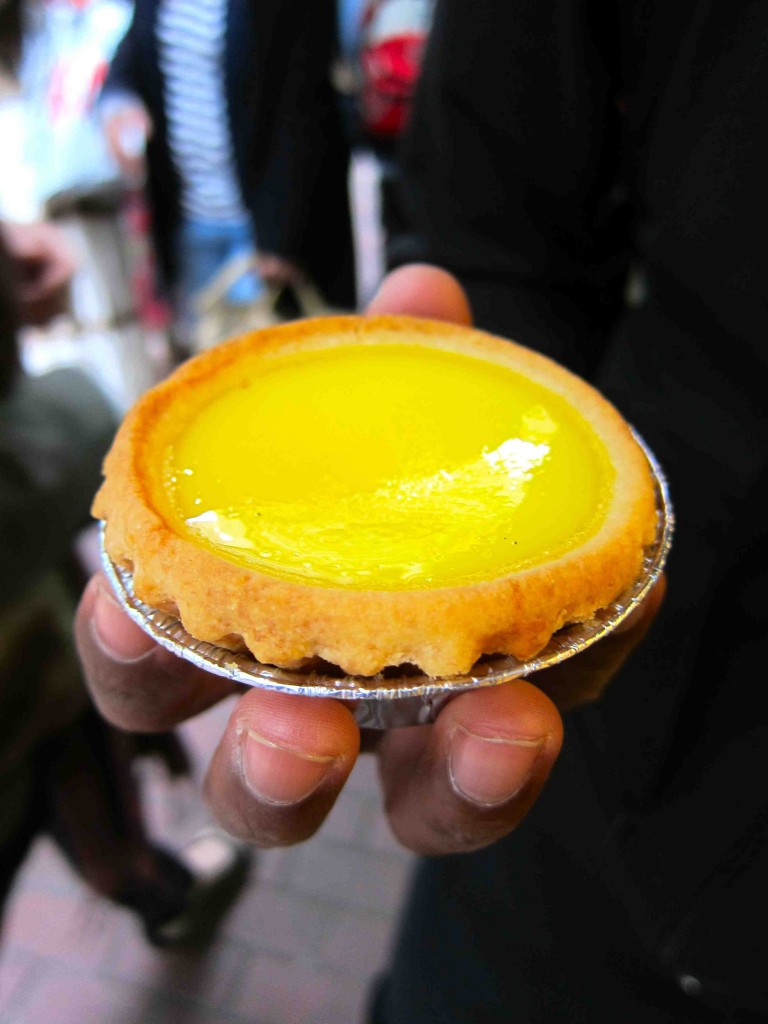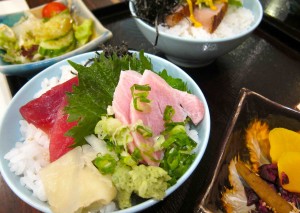 That evening, we decided to splurge on a Japanese meal, since it seemed that would be the closest we'd be getting to Japan any time soon. We ate two types of tuna sashimi and smoked eel. So good!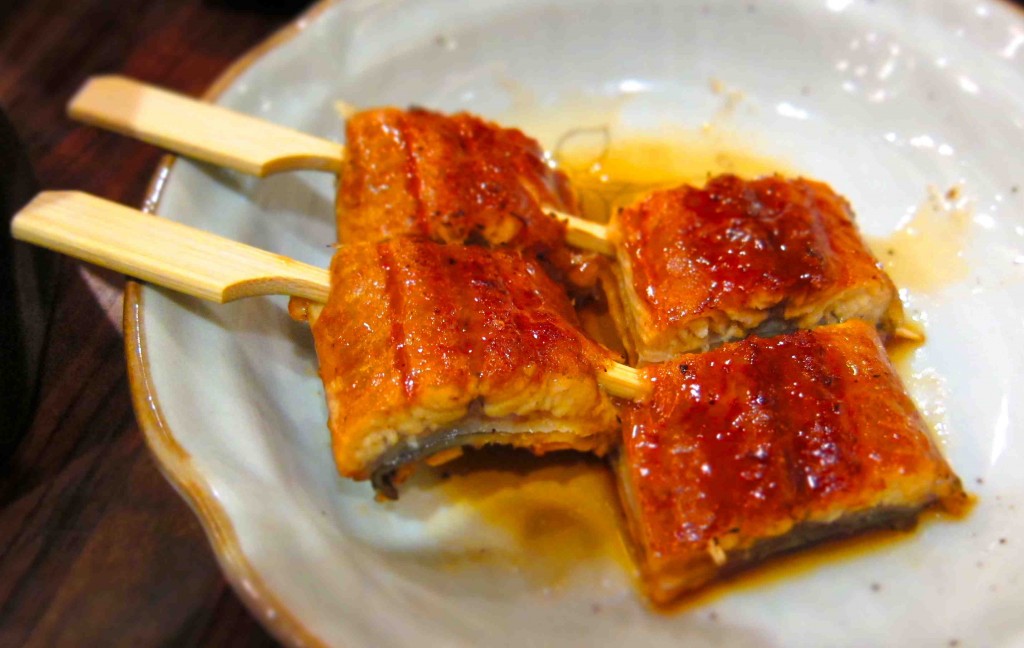 19 Mar
Our last day in Hong Kong…sniffle, sniffle. We were excited to head to Australia, but also knew we'd miss all of the terrific Asian food at excellent prices (even though Hong Kong is more expensive than SE Asia, most of the places we ate were frequented by locals and were still a great deal). We had a heavy agenda of errand-running before we headed to the airport, but scratched together the rest of our Hong Kong currency and made our way to Mido Cafe for their milk tea and french toast. As mentioned above, we'd already tried the Hong Kong milk tea, but not yet the french toast (turns out it's really not that different from regular french toast!). We enjoyed our meal, as well as the mod setting in which we ate it. Mido is kind of stuck in time, but in the middle of one of the most modern parts of Hong Kong – and a great way to end our Hong Kong experience.