New Zealand
20 April (Auckland/Mount Eden)
We arrived in New Zealand with high hopes for the food. From what I could tell fresh, local ingredients, organic whenever possible, was pretty much the norm. Unfortunately, eating on a budget has created a bit of a barrier to trying all of the restaurants we would like, but on our first night in Auckland, we splashed out and had burgers at The Mulberry, a pub near our hostel (sounds really fancy, eh?!). They were priced around $20 (NZ – about $16 US), but when they arrived at our table, I was pretty much speechless. I think the photo does as much justice as anything without taste or smell can…
21 April (Rotorura/Taupo)
The following day, we set out on our great roadtrip adventure, taking a rental car we got for free from Auckland to Queenstown in five days (it was a relocation vehicle, so it was free, but we didn't have all the time we'd have liked to get it down there!). We stopped for lunch in Rotorura and, after the burger, I was feeling like some veggies were in order. I ended up with this salad, another feat of engineering that was pretty interesting for a vegetarian salad. It had falafel, pumpkin seeds, olives and lots of other hidden treats.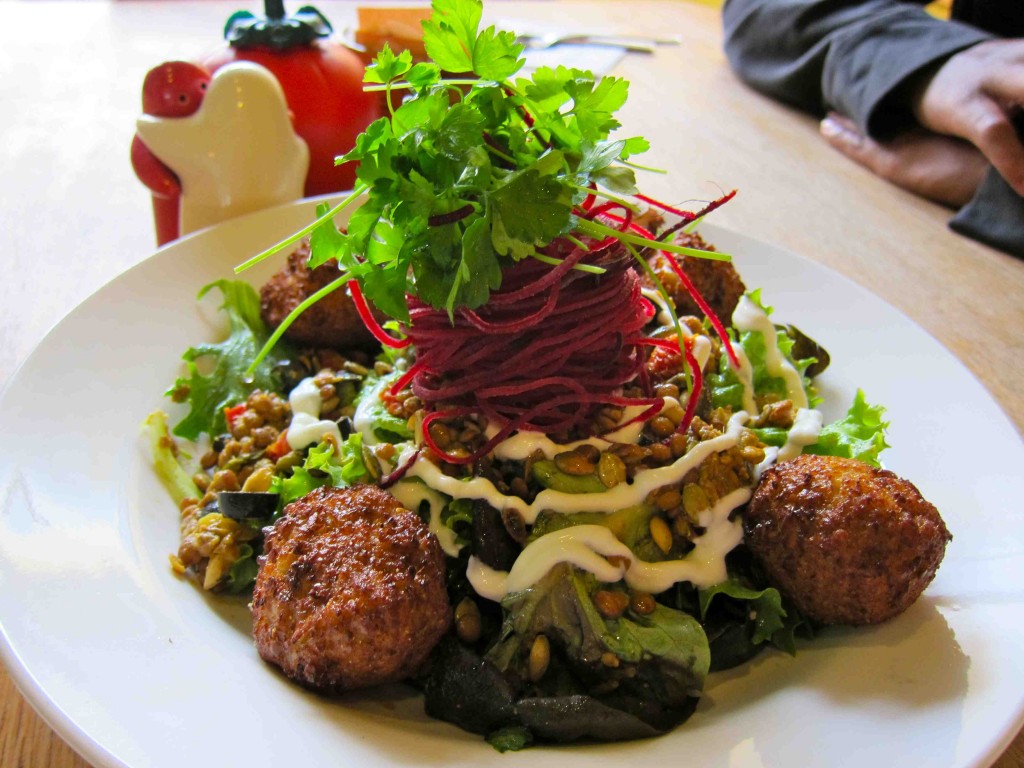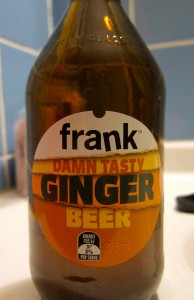 One great thing about New Zealand is that we have been able to continue our quest to find the world's greatest ginger beer. Australia is ginger country, so we had the chance to try several varieties (which I will cover in our Australia food section if I ever get it completed!), but our favorite is still found in the good ol' USA – Maine Root's Ginger Brew. This one was in fact "damn tasty," but still not as delicious!
22 April (Wellington)
We had only about 20 hours in Wellington and we intended to make them count! Unfortunately, our visit coincided with the Good Friday holiday, so some of the places we wanted to eat and drink were closed.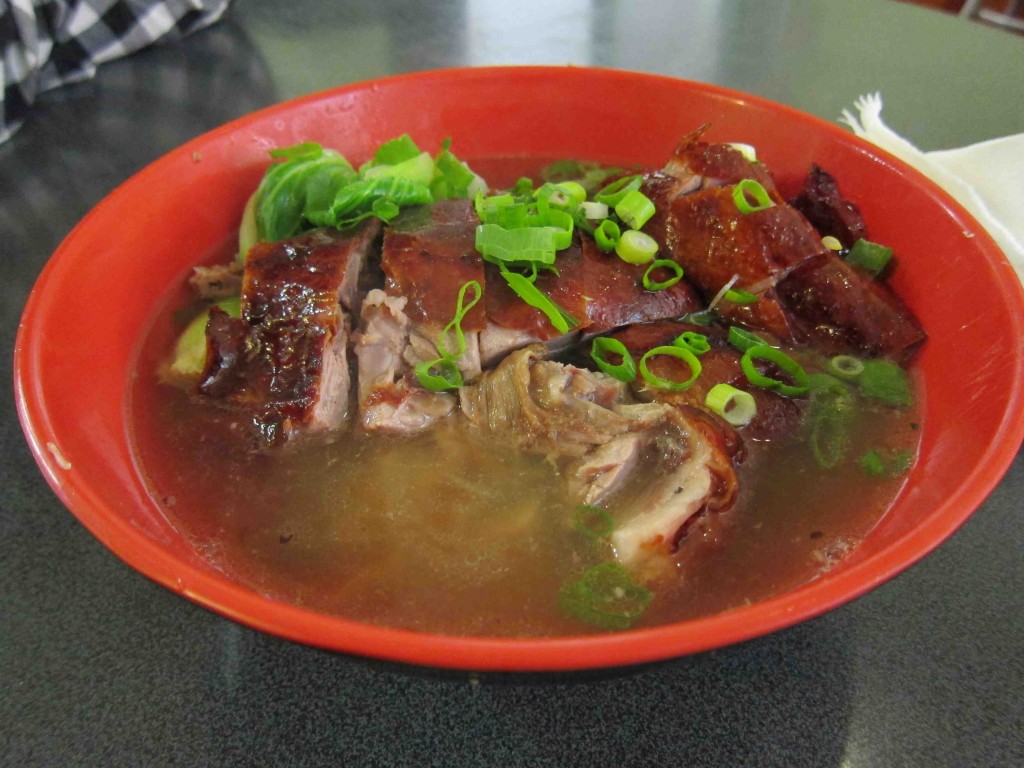 We made due with some Chinese food (I had the duck noodle soup pictured here), which was pretty tasty and a visit the following morning to one of the city's great cafe's – Ernesto's.
25 April (Queenstown)
We arrived in Queenstown after a 7 1/2 hour drive from Greymouth and, although our hostel had an ok kitchen, decided to treat ourselves and actually have dinner out! Lucky for us, it was a Monday, so we were able to find some good specials. At Pog Mahone's Irish pub (laugh if you will, but the food and deal were both good!), we got 2-for-1 "stonegrills." The stone grill is meat, served on a hot rock. It arrives raw and you cook it to your liking on the rock, at your table. Suhail had the lamb, which did not photograph well, and a Guinness and I had the surf & turf (see below) and a really good pale ale, Hop Rocker from Mac's Brewery (Wellington, NZ).
27 April (Central Otago Wine Tour)
Suhail and I decided to book an organized tour of the Central Otago wine region so we wouldn't have to worry about wine tasting and driving. We ended up with a wonderful guide, Paul, and a small group of other we enjoyed spending the day with in this amazingly beautiful region.
We started at Gibbston Valley Winery, which is only about a 20 minute drive from Queenstown, where we were based. Gibbston Valley is unique because they have actually dug their wine cave into the side of the mountain. No other winery in the Otago Region has done this and our visit included a tour and tasting inside of this cave. We sampled their Reisling, a Pinot Gris and two different Pinot Noirs, which is what this region is really known for.
From Gibbston Valley, we headed to Olssen's, where we enjoyed some locally made cheeses with our wine tastings. Olssen's has a lovely outdoor area and though it was cool, the warm sun made it possible for us to sit outside and enjoy the view over the valley.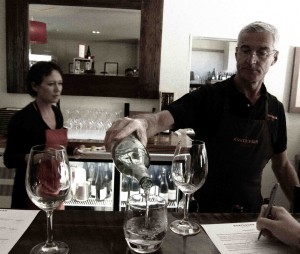 We then drove further out to Bannockburn (one of the reasons we chose this tour is because it is the only one to visit the vineyards this far from Queenstown) to Northburn Winery.
This was where we sampled our favorite wines of the day and had an amazing lunch, which was, of course, perfectly paired with their tasty wines (Suhail had the Reserve Pinot and I had the Reisling).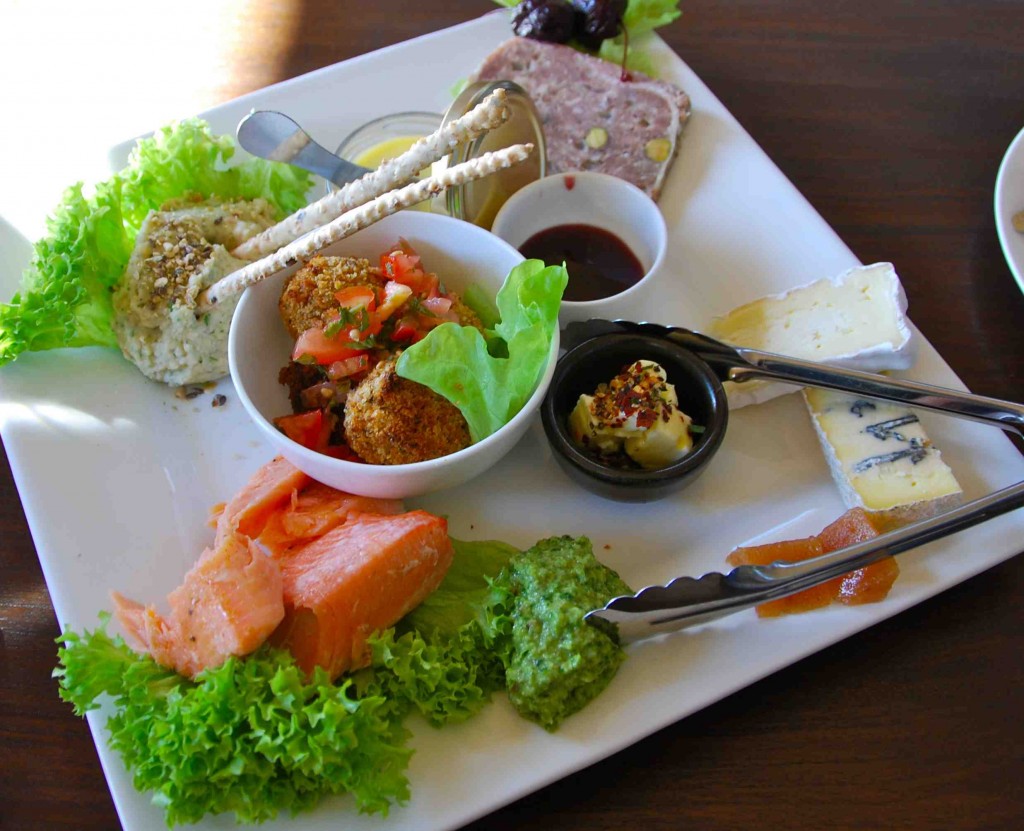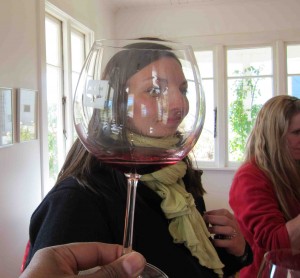 After a nice long and leisurely lunch, we headed to Aurum Winery, probably the smallest in the region. They have a French winemaker, so their wines are more in the traditional style than most of the other wineries in Otago. At this point, it was seeming like a very good idea that we didn't need to worry about driving home!
27 April (Queenstown)
On the ride back to Queenstown, one of our fellow wine tourers suggested meeting for dinner that evening, so we ended up having a rare treat of a meal out, as well as some good company, which we fully appreciated! We ate at Flames, one I was told was the best place in Queenstown "for meat." I am not much of a meat eater, but if I'm going for it, I go for it, so I ordered the filet and Suhail got rack of lamb. Both were excellent.
29 April (Arrowtown)
Arrowtown is an old mining town about 30 minutes from Queenstown. The day we visited was yet another one of the beautiful Indian Summer days we enjoyed…in my book, that's the perfect excuse for an ice cream! Patagonia is a chocolate shop that also serves incredible ice cream with some unusual varieties; I tried the fig & pistachio, which was a terrific combination.
While this sign peaked our interest in finding out what exactly a "NZ hot dog" is, we did not feel curious enough to find out.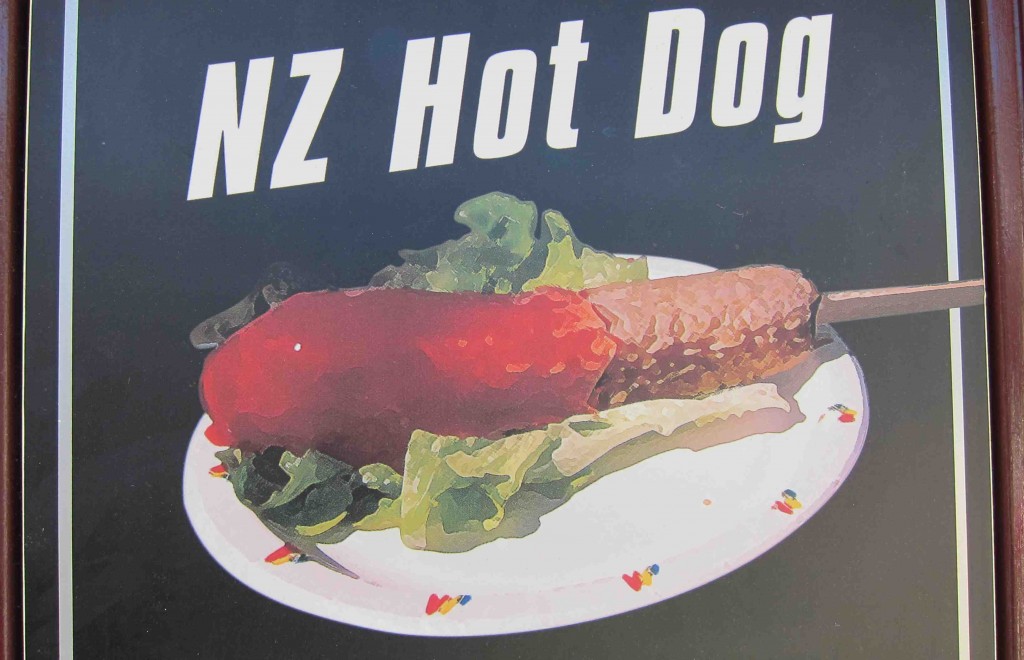 3 May (Te Anau)
The hostel where we stayed in Te Anau was just down the street from the Red Cliff cafe, a small restaurant that caught our eye as we walked by one day. We checked out the menu and decided to splurge on a dinner there the following evening. As the off-season had fully set in after the Easter holidays, we were, unbelievably, the only customers in the restaurant that evening. This was no reflection of the quality of food or service. It was one of the best meals we've had on the entire trip!
Since it was such a splurge for us to eat out (especially in a nicer restaurant), we decided to get two appetizers – a decision we did not regret. Both were very good, but the mussels were incredible. We saw green lipped mussels several places in New Zealand, but I can't imagine they are nearly as good most places as they were at Redcliff. Cooked perfectly and presented cleverly!
For our main courses, Suhail had the lamb (surprise, surprise!) and I had the wild hare. The lamb was a "Southland lamb cutlet served with a lamb and kidney hotpot and creamy mash and pea pesto." The wild hare was served with a mushroom and truffle oil risotto that was encircled in a parmesan cracker of sorts. I had never eaten hare and did not realize it was even different from rabbit, but apparently, hare is dark meat and rabbit is light. It was so delicious, for a second I was sorry we'd gotten the appetizers because I wasn't sure I'd be able to eat it all! With a small bit of help from Suhail, I did manage ok in the end though.
5 May (Te Anau & the Catlins)
Before leaving Te Anau, Suhail had to try Miles Better Pies. According to the sign on the door, they are open only until "3ish" every day, so we hadn't had a chance to sample their pies until the morning we left town. They had numerous offerings, including some unorthodox varieties, like Chicken Satay and Pepper Steak. Suhail tried a venison pie and found it to actually be several kilometers better than the others he'd eaten.
We were headed for the Catlins in the southeastern part of the South Island, but we took our time and made a few stops along the way, including the Tuatapere Famous Sausages, the very sausages that made Tuatapere the "Sausage Capital of New Zealand." We tried two varieties, garlic and Moroccan lamb, which we ate with eggs for dinner that evening (gotta love traveling on a budget!).
We really enjoyed the eggs in New Zealand. Even regular grocery store purchases had bright orange yolks and other evidence that they were extremely fresh – as illustrated here!
Another stop we made was in Invercargill at the Invercargill Brewery. While they do not offer tours of the brewery, they do have an on-site bottle shop and we were waited on by the brewer herself (whose name I unfortunately did not get). She was nice enough to give us samples of all their house beers, which they sell pre-bottled and from a "fill your own" station.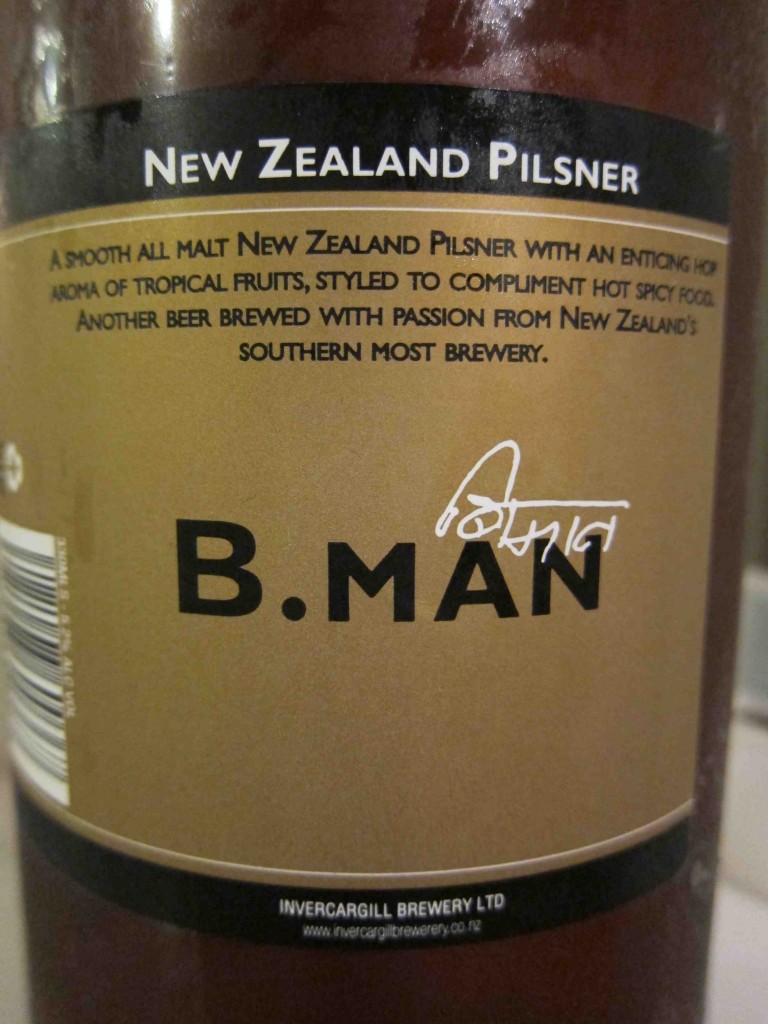 Our favorite was the Biman (pronounced "Bee-men"), which was similar to an American IPA (what a surprise that it was our favorite!). We actually liked each of their offerings. Pitch Black is a great stout and Stanley Green is an English style pale ale.
We also learned that Invercargill contract brews beer for several other companies that we had tried while in New Zealand. One of the most interesting was the Yeastie Boys' Pot Kettle Black, which they describe as a "hoppy porter."
6 May (the Catlins)
We really enjoyed our time in the Catlins. It is a wild and sparsely populated part of the country, with challenging living conditions, but an incredible amount of natural beauty. The day we arrived the weather was beautiful, but the next morning, as we prepared for our three hour hike to Waipohatu Falls, the drizzle set in and a chilly cloud cover hung low in the sky.
We did the hike, which took us to a beautiful waterfall and then stopped at the award-winning Niagara Falls Cafe in nearby Niagara. We sat right next to their coal burning stove and I had the seafood chowder, which had mussels, shrimp and fish and Suhail had the lamb burger, both came with the cafe's homemade bread. For dessert, we had sticky date pudding, a gooey treat that originated in Australia, though I'd first tried it in Scotland. What a great way to reward ourselves after our strenuous hike!
7 May
It's hard to get very far in New Zealand without bumping into Speight's beer. The "Pride of the South" is sold in bars and bottle shops all over both the North and South islands. Speight's originated in Dunedin, however, so decided to check out the brewery when we visited the city. Aside from being one of the strangest brewery tour I have ever been on (and I've done a few!), it was the only one I have ever seen that continues to use the original copper tanks and retains much of the building's original charm.
The tour had a history of beer brewing in general (including some hokey hieroglyphics from Egyptian times), Speight's itself and a short walk through the actual production area, all of which really just felt like stalling before we got to the tasting room, where we were able to serve ourselves any of six different brews – as much as we liked for about 30 minutes. We did the tour with our new German and Dutch friends, Oliver and Jorgen, and all of us agreed the Old Dark was the best. The cider also received good reviews. It was light, tangy and not too sweet – very refreshing.
9 May (Otago Peninsula)
While out exploring the Otago Peninsula, we took a break at the Penguin Cafe for some coffee and a couple of very typical Kiwi sweets – an Afghan cookie (a chocolate cookie with cornflakes, walnuts and chocolate frosting) and a ginger slice (a sort of shortcake studded with crystalized ginger and covered with ginger frosting).
12 May (Auckland)
On one of our last mornings in New Zealand, we went out for breakfast so we could enjoy one of our last Kiwi coffees. We headed to Sierra in Mount Eden, where I had a latte and berry french toast and Suhail had a cappuccino and salmon eggs benedict. Since the weather was perfect, we enjoyed our meal on their lovely back patio. A perfect start to the day.
That evening, we met up with Craig and Linda, who's Indie Travel Podcast (check it out if you want to hear and see their travel tales and tips!) we'd listened to religiously while planning our big trip. When they themselves are not traveling the world, they are Auckland natives, so we had the chance to finally meet them in the flesh. They took us to Covo, a great Italian place in the city.
Suhail had the Butcher pizza (a meat extravaganza) and I had the special cannelloni, with king fish, eggplant and ricotta. Not only did we enjoy meeting Craig and Linda and their friends, Covo was the sort of hole-in-the-wall place we probably would not have found on our own.
13 May (Auckland)
For our last meal in New Zealand, we decided to stick near our hostel so we could get a jump on our packing (ugh!). We had a very Kiwi meal at De Poste – a Belgian Beer Cafe housed in an old former post office. Suhail had the lamb shanks and I had another dose of the green lipped mussels.
Although not as amazing as our meal at Red Cliff, we did have one last chance to enjoy our favorite Kiwi foods. My mussels even came with a complimentary 150ml Hoegaarden…and I just loved the cute little "souvenir" glass it came in (c;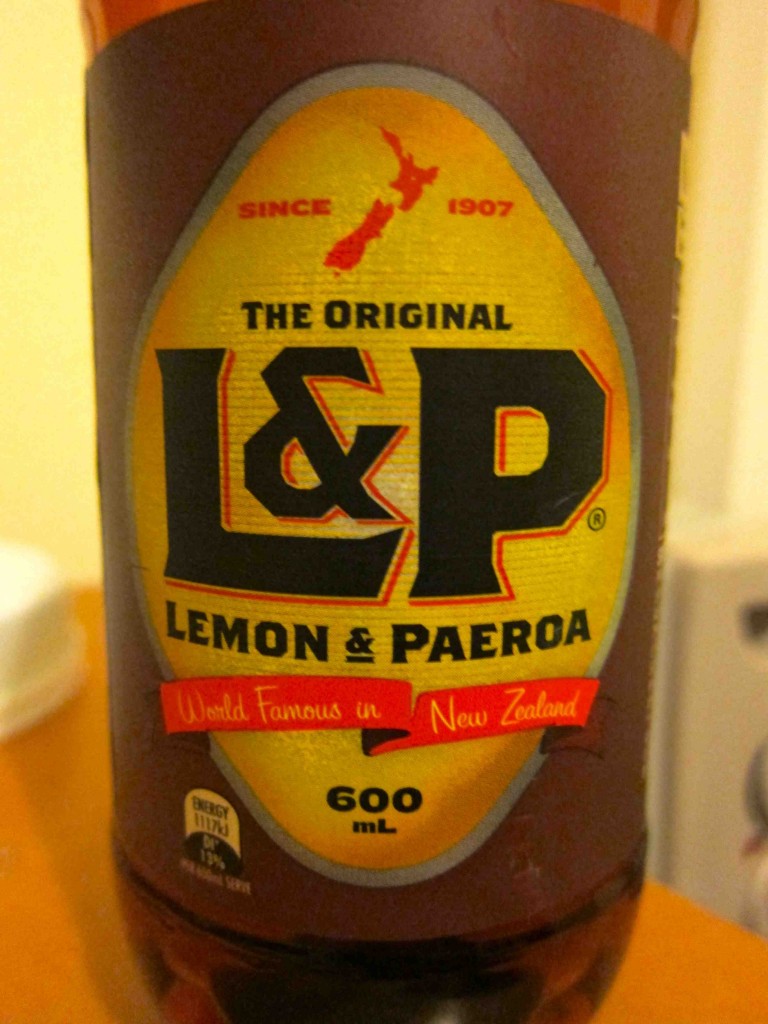 The only remaining Kiwi classic we felt we had to try was L&P – lemon & paeroa. L&P is a carbonated soft drink that reminded me of a lemon & honey cough drop, but Suhail seemed to like it. Their slogan is "World famous in New Zealand," but I think one taste was enough for the both of us.