Indonesia
Cianjur, Java
We arrived in Indonesia without any preconceived notion of the food culture or (to be completely honest) any real sense of what Indonesian food was all about. We had the chance to try it in Singapore and Bangkok, but we decided to just wait for the real thing. Over the next few weeks, we were very pleasantly surprised to learn more about the wonderful food of Java (which differs as  you travel from West to East or vice versa across the island) and Bali.
Most Javanese people are Muslim, so they do eat meat, but I was surprised to learn they also eat a great deal of tofu and tempeh. Most meals consist of rice or noodles (but like all of Southeast Asia, there is really A LOT of rice!), some vegetables, bean curd in some form (maybe even both tofu and tempeh in the same meal) and a small amount of meat, though the meat is not a given with every meal. This sort of selection is likely any time of the day, from breakfast to dinner.
We stayed at a homestay in the rural area of Cianjur for the first few days we were in Indonesia. Breakfast was usually some fresh fruit, amazing Javanese coffee and something savory (something like chicken porridge or sticky rice stuffed with chicken). Not only were our home cooked meals included, we had the chance to hike through the terraced rice paddies and jungle to a rural village where the women were making palm sugar. While we watched them work, we enjoyed fresh made rujak, which is fresh fruit and/or veggies served with a delicious dip of: peanuts, palm sugar, tamarind, salt, lime and chilis all freshly ground in a mortar and pestle. After that, we relaxed with a hookah of double apple tobacco, courtesy of our guide, Hari.
Later on, our lunch was served on a mat on the floor in the main room of the traditional thatch roofed house. We had a delicious meal that consisted of steamed rice, corn fritters, something we were told was "soybean byproduct and chilies," sauteed Chinese vegetables, stir fried cucumbers & carrots, something curried, something steamed in banana leaves (we cannot remember) and fried tempeh. We were starving after our hour long hike to the house and the meal was delicious!
All of the food we had at the homestay was good. Here is another example of what is generally eaten (though I am quite sure they serve westernized portions, because we could barely finish all they gave us!). Lotek is fresh vegetables chopped and served with peanut sauce, another version is made with steamed veggies and called gado gado (also delicious!).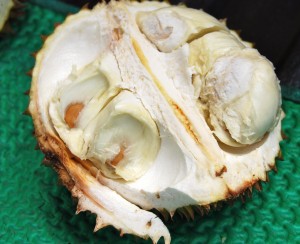 Suhail had wanted to try durian since before we left Chicago. Known for it's distinct and, many say, disgusting aroma, durian is a legendary fruit…one people love or hate (or love to hate). The pungent fruit smells a lot like good French cheese and, in my experience, if you think of that as you try it (as opposed to say mangos, strawberries or some other juicy, sweet fruit), you will actually enjoy its unusual flavor. In Bangkok, the subway has signs letting riders know durian is prohibited and we found many hostels would not allow durian to be stored in their fridge.
After leaving the rural village, our guide, Egge, selected a medium grade durian (the highest grade can sell for quite a bit of cash) from the grouping of durian vendors we passed on the way home. Before reading this post on durian quality and selection, I had no idea it was such a risky business in Indonesia! Luckily, we had the vendor split the fruit open (no small task), found it was acceptable and we ate it in the back of the pickup truck. I was not sure what to expect and actually thought I would hate it, but it turned out to be pretty tasty. I was satisfied after a few pieces, but Egge was a true durian fan and finished what the rest of us left behind.
Bandung, Java
The food in Indonesia is generally very fresh. We spent one night in Bandung while en-route to Yogyakarta. We arrived fairly late and ate at the first little hole in the wall warung (the Indonesian term for a small, family owned restaurant or stand) we found. The husband and wife team were not annoyed that we arrived for dinner after 9pm or that we couldn't speak their language. We ordered and sat back to wait. Since most warungs are staffed by the husband and wife and maybe a couple of their kids, the food comes out much as it would in their home – frequently one dish at a time! This place had four small tables, so you can imagine how impressed we were to see the husband start whipping up fresh noodles for our neighbors' dinner. Unfortunately, we'd already ordered rice dishes. We saw this kind of attention to fresh wholesome food all over Indonesia. A refreshing change from the processed convenience foods that have invaded most American homes and restaurants!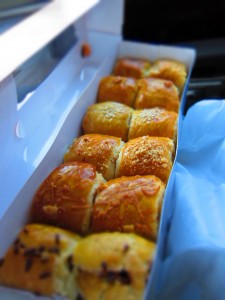 The next morning, we headed for the train and Yogykarta. I purchased a box of pastries before we boarded, opting for the assorted flavors. Included in these were coconut, banana and chocolate, peanut and durian. There were also a couple we could not identify, but still enjoyed.
Yogyakarta, Java
We stayed at Via Via Guesthouse in Yogyakarta and enjoyed eating at their travelers' cafe just around the corner as well. It's not much of an authentic Indonesian restaurant, but it's a great organization that supports local non-profits and had an incredible staff. They also had some of the best free breakfast of any place we stayed in Indonesia!
Unfortunately, it rained pretty much every day we were in Yogyakarta, so we didn't always feel like getting out and exploring (thus the numerous visits to ViaVia!). Luckily we had some decent options within a block or two of our guesthouse.
One night, we were heading out for dinner when a noodle cart crossed our path. We quickly changed our plans, spent about $1 between the two of us and enjoyed fresh steaming hot noodle soup at the guesthouse. Dinner from a cart, in its many many forms, is one of the best things about SE Asia!
The other great thing about ViaVia was the honor bar in the communal kitchen. Suhail discovered Bintang, the first decent beer we'd had in South East Asia. It reminded us of Stiegl, an Austrian lager that we had definitely missed!
One of the best budget dining options in Indonesia is masakan padang (or "food from Padang"). These restaurants are all over the country (even though they highlight food in the style of Padang) and are easily identified by a window featuring stacks of dishes heaped with food. It's basically a buffet style restaurant. You help yourself to rice (as much as you like is included) and whichever dishes you want and are charged by the number of dishes (not the quantity) you try. You are only limited by the amount you can fit on your plate. Astonishingly, Indonesians do not over load their plates to "get their money's worth" as most Americans would. I found masakan padang warungs a great way to sample lots of different dishes, as which those of you who know me already know, is my favorite way to eat!
East Java – Bromo, Kalibaru and Sukamade
After several days in Yogyakarta, we hit the road again and heading out with a guide and driver (an usual splurge for us) for Bromo Volcano and Sukamade National Park. This trip took us to less traveled parts of Java and, of course, tastes we had not yet experienced. The first night, we arrived in Bromo quite late and ate at the only warung that was open (the hotel's restaurant had been commandeered for the filming of a local soap opera). Although it was a tiny, bare bones place, we had some pretty good food. Suhail had the goat sate (at left) and I had nasi campur (which is basically gado gado).
The morning we headed to Sukamade (which is where we hoped we'd see turtles laying eggs on the beach that night), we bought some groceries to supplement the basic dinner they would provide at our accommodation at the national park. We did our shopping in a local market in Kalibaru. The vendors (mostly older ladies) were obviously not accustomed to many tourists. They all tried to speak to us in Javanese, which we did not understand at all, and some tried Bahasa Indonesia, which we were working on. The main goal of each of their lines of questioning was to find out how I had landed Suhail. He was quite a hit with the local old ladies!
Knowing Sukamade was pretty isolated and after being told things were going to be very simple, we were very pleasantly surprised with the meal we were served that evening. We had purchased fresh shrimp, ferns, local anchovies and a lot of fruit (including the incredible snakeskin fruit – more on that below).
They prepared a dinner of typical East Java dishes, including shrimp with local ferns, which was something I had never imagined we would eat in Indonesia. The shrimp and ferns were both so fresh – it was delicious!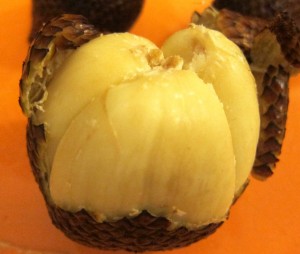 While in Yogyakarta, we'd heard about this odd-sounding fruit – the snakeskin fruit…well, it looks exactly like whatever you are picturing. The good news is, it tastes much better! So, the outside of the fruit looks and feels like a scaly snakeskin and the inside looks like cloves of garlic. The texture is similar to garlic cloves, firm and not very juicy and the taste is a bit like pineapple, but not as acidic. As far as I know, Indonesia is the only place this delicious fruit can be found.
Lovina, Bali
We took a ferry from Java to Bali and headed straight for the north to avoid the overly touristed South Bali-Kuta area. The area we stayed in was still fairly touristy, but we managed to get some great food that didn't seem to be toned down for the tourists' palette. Although we'd heard food in Bali was spicier than that in Java, we didn't really find that to be the case.
From Lovina, we eventually headed south, but almost immediately caught a ferry to the more isolated island of Nusa Lembongan. The main industry on this island (other than seaweed farming) is tourism, so the food was generally pricier and more westernized. We weren't that impressed – until we found Maria and her lovely little roadside warung. Between her incredibly hospitable hosting and delicious, affordable food, we couldn't stop eating there!
And we couldn't resist returning for breakfast the next day…I am not even a big egg fan, but we found the eggs in Southeast Asia to be some of the freshest and most delicious we've ever tasted! Indonesians love their coffee, but they do not mess around with fancy espresso makers or even crappy Mr. Coffee machines. They buy their coffee finely ground, put a few teaspoons into a mug, add boiling water and stir. You have to wait for a few moments for the grounds to settle, but once they do, you have one of the richest, strongest cups of "java" (hahaha) you can imagine. So amazing…