Argentina – part 1
29 August
For our second couchsurfing experience, we were lucky enough to be hosted in Mendoza by Diego and Luli. Not only were they nice enough to put us up for a night, they were aware of our obsession with food, and they came home from work and whipped us up an Argentinian feast!
We started with picadas (which is often the entire weekday dinner for Suhail and me when we are working!) and then empanadas filled with blood sausage. We'd never tried this variety before and I think Diego thought he could gross us out with the blood sausage…but little did he know that Suhail and I not only eat it when it is the only option, we've actually eaten it by choice and bought and prepared it for ourselves. It's rich, creamy and  a totally decadent filling for an empanada.
The main course was matambre, which is a thin steak sometimes filled and rolled or, as in this case, topped with ham, cheese and roasted red peppers. Diego served the matambre with "smashed potatoes," which were boiled potatoes, literally smashed and fried with olives – an interesting and tasty twist.
We washed it all down with a bottle of wine from Cecchin, Luli's favorite local bodega (and one of mine too when we visited on our wine tour – see below).
28 August
After all of our hectic wine-tasting in Mendoza (ha!), we decided to take a quiet Sunday and hang out around the hostel.
We cooked up the chorizo from the butcher shop along with fresh pasta, veggies and ricotta cheese. Beyond the meat, it's great to have so much tasty Italian food available, both in restaurants and supermarkets. We opened the bottle of Malbec we'd purchased at Familia di Tomasso, which tasted even better with our homecooked food.
27 August
I was a bit worried we'd be tired of bodega visiting after Cafayate and our day in Maipu, but we went ahead and visited Mr. Hugo to rent some of his bikes. It turned out a beautiful day with great wines and a bit of exercise. The friendly staff at Mr. Hugo's got us some nice bikes and went over the map with us, highlighting the features and prices for each bodega and other attraction in the area. Then, as we were about to leave, the infamous Mr. Hugo himself appeared and offered us some wine. Nice way to start our trip!
From Mr. Hugo's we headed to Bodega La Rural. This place is free, but not really recommended for the wine tasting. It is, however, recommended for its museum. They have all kinds of old wine making equipment (including the I Love Lucy style stomping vessel), as well as photos and relics from Mendoza's early days.
From there, we visited Historia y Sabores (History and Flavors), which is not a bodega, but a spot that makes liqueurs, jams and spreads, chocolates and many other things. For $20pesos (about $5USD), we were able to do a tasting of any/all of the spreads and some of the liqueurs. I opted for the hazelnut chocolate liqueur, but Suhail went big and chose their absinthe.
Our guide prepared the absinthe by dipping a teaspoonful of sugar into the alcohol and then lighting it on fire. She then stirred it into the shot and cautioned each of the people about to drink it to NOT drink it like a shot. I tried a mini-sip and decided if I wanted to enjoy the rest of our day, that was enough. Suhail decided not to drink the whole thing either. A wise decision, I think!
From there, we'd planned to bike to the furthest bodega in the area, but after about 20 minutes of biking, we realized we should have gotten an early start (and that the maps supplied by Mr. Hugo are not to scale!), so we revised our plan. Most of the bodegas are open until 6 or 6:30, and it was already after 3pm. So, we stopped next at Bodega Familia di Tomasso, a bodega recommended by our Scottish friends (by way of the Galapagos Islands), Marie and Stuart. With its beautiful setting and great wine, it was one of our favorites as well!
After spending a lot of time chatting with the tour guide, we hopped back on the bikes and set out for our last bodega visit of the day, Mevi. Bodega Mevi is a small scale winery set in a very modern building with a beautiful terrace where you can enjoy your wine. I would venture to say this view is one of the best, if not the best, in Maipu.
We opted to try their reserve wines, the San Gimignano line, which consists of a Cabernet Sauvingnon, Syrah and Malbec. They were all tasty, but we bought a bottle of the Malbec. In a strange promotional offer, we ended up also getting a small bottle of the Cabernet as a prize of sorts. Bonus!
It was a perfect end to our second day in Maipu…but we weren't finished yet…
Our last stop of the day was the only brewpub in Maipu, the Beergarden. This is so different from the German beerhall that you are probably picturing right now. It is nothing more than a shack in the middle of a field, where they serve three of their own beers – a blonde, a dark and a red – and empanadas.
Suhail tried the blonde and we each had an empanada (Suhail the meat and I the Caprese). Everything was good, but I was pretty much ready to head back and return the bikes before we lost what was left of the sun, so we didn't linger too long.
We got back to Mr. Hugo's and, after he poured us more wine (seriously), we had a nice chat with him. He started the bike business in his retirement and he clearly loves meeting all the different tourists and hosting them in his wife's (and his adopted) hometown of Maipu. We had a perfect day out that was only made better by his friendliness and hospitality. There are other bike rental companies in Maipu, but I have a hard time believing they provide as wonderful an experience as Mr. Hugo!
We caught the bus back to Mendoza center and, on the way back to our hostel, we stopped at a neighborhood butcher shop we'd noticed earlier.
This place is hard not to notice because it is always packed. I think the first time we'd passed it, the line was out the door. As you've seen here, Argentinians don't mess around when it comes to meat, in addition, they are also very family-oriented and love eating (gargantuan portions of meat) together as a big group. So when we stopped by on this Saturday evening, everyone was preparing for lots of family feasting the following day.
We decided to pick up some chorizo, which we planned to enjoy with some pasta and much needed vegetables the following day.
26 August
On our first full day in Mendoza we did a wine tour through our hostel (Hostel Empedrado – one of the best places. Afte we've stayed!). We weren't sure if we should go with a bus tour or just do the Maipu bike tour we'd heard so much about. After about 3 minutes of encouragement from Manuela at Empedrado, we decided to do both!
Our bus tour ended up small and intimate (only 5 of us!) and a great day out. We started out the day at Navarro Correas, a huge winery that we definitely would not have made it to otherwise. Although Navarro Correas is a behemoth in the Mendoza wine industry, the experience at the bodega was intimate and relaxed, and we tasted two great wines. All in all, it was a highlight of the day.
Their grounds and operations are impressive. After a brief tour, our guide spent about 30 minutes with us for the tasting alone, in which he explained what you should be looking for in appearance, smell and taste when sampling a wine. We tasted a Sauvignon Blanc and a Syrah, both from their private label collection. I think everyone in our group appreciated this break down and it was a great way to set the tone for our whole day.
One great thing about visiting a larger bodega is that generally their wine is actually available in the US! Navarro Correas Collecion Privada label (their mid-range label) is incredible and sells for around $10 in the states – and is highly recommended – by us! A nice trivia fact about this particular wine is that with each vintage and varietal, the label features a different work of an Argentine artist. Now you can bring a great bottle of wine to the party and tell the hosts something interesting about it!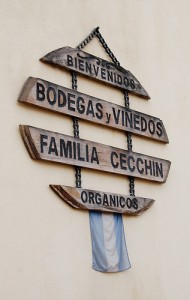 Our next stop was my favorite of the day, Cecchin. Cecchin is an organic, biodynamic winery and as we walked their vineyard, we could see fruit,  nut and olive trees, as well as the vegetable patch (now dormant since it's winter). These elements are included for biodiversity's sake, but also because they attract/distract insects that may otherwise infest the vines.
The Cecchin family has been making wine in Mendoza for over 100 years. They decided to return to organic methods several years ago and now hold a number of organic certifications (since their wine is sold in several countries) and will soon be biodynamic certified as well. For much more information on Cecchin, I can recommend this cool blog/project I came across. Their information on Cecchin is much more thorough than anything you'll find here!
After a tour of their vineyard and wine making facilities, we tasted two good wines, a white (sorry that's vague, but I'm not sure of the varietal) and their Malbec. We also got to taste some of their olives, which were preserved very differently than most. They were drier and more prune like in texture than the olives we are used to, but had a nice, interesting flavor. We did not purchase any wine, but did buy some of the excellent preserves they produce from their fruit trees (fig – yum!).
Our last bodega visit was to Cavas Don Arturo. This is another smaller operation. Surprisingly, even though it is a smaller bodega, we found their presentation to be annoyingly sales-y, which made the tasting a bit less enjoyable. We got over it, though…especially when we got to taste one of their reserve wines that is normally not available for tasting. Overall, the wines were decent and it was interesting to see the historical aspects of this old bodega.
So the bodegas and wine tastings were fun, and tasty, but the real feature of the day for us came at the end, when we sat down to an incredible lunch. The restaurant (whose name I did not make a note of – sorry!) was fairly touristy, in that it seemed like a destination sort of place for Mendoza's scores of wine tourists, Argentinian and otherwise.
However, we arrived to find a private dining room set for the 5 of us. The Kepnicks are a family that loves a good spread of meats, cheeses and accompaniments, but the array on this table was like nothing I have seen before! In Argentina, you can order "picadas" in most restaurants and you get a selection of cured meats, cheeses, olives, sometimes a milanesa or matambre other less traditional additions – add a glass of wine and you are all set! In this case, the immense picadas were paired with some of the restaurant's wine, which is produced only for service and sales on-site. It was a nice, relaxed end to our hectic day of touring!
24 August
We spent the better part of the afternoon and the entire night on buses from Cafayate to Tucuman to Mendoza. While in the Tucuman bus station, we had yet another reminder of the importance of mate in the average Argentinian's life. While I don't have a very thorough understanding of it, it is a big deal here. People drink it out of special cups (traditionally made of gourds), through special straws (to filter out the tea leaves), often carrying it around all day long. Here's how I understand it works: in the morning, you fill your mate cup about 3/4 of the way full with tea leaves. Seriously. You then fill the remaining 1/4 with hot (but not boiling) water. Throughout the day, you continue to top up your cup with hot water, but without adding any more tea. For that reason, this machine is in the bus station, ready and waiting to provide you with more hot water!
23 August
On our second day in Cafayate, we decided to explore more of the town's bodegas on foot. We walked the 1 km or so out of town and visited El Esteco, one of the larger producers in the area and Vasija Secreta, the oldest. El Esteco offered a range of quality levels for tasting, with corresponding price points. We opted for a single taste of their mid-range Malbec, which was a solid offering.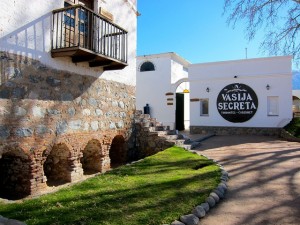 At Vasijo Secreto, they offer a complimentary tour and tasting. The tour was especially interesting because of the bodega's history. Although it is not still owned by the original founding family, it has been in operation continuously for over 150 years. The bodega also features a museum, which contains old wine making equipment and lots of old photos. Much of the original building is still used for production today, though it is filled with more modern equipment!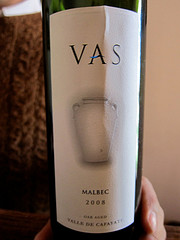 The bodega offers their lowest priced wines for tasting, which were decent, but since we are from the good ol' US of A, our guide offered us a taste of their Vas line, since that is what's available in the states (though only in restaurants).
After we had our fill of wine for the afternoon, we decided to check out one of the other gourmet options available for tasting in town – cheese! We walked back into town and then out again to Cabras de Cafayate, a goat farm and cheese factory. They have endless varieties of cheese, including some made from a blend of goats' and cows' milk and incorporating different herbs and spices. Not only was their cheese delicious, but we also got a tour of the farm, which included tons of newborn goats. They were adorable!
The other thing I loved about Cabras de Cafayate was the way they have become part of the fabric of this grape growing region, and not because it's trendy to be sustainable, but because it makes sense. They send the goat droppings to the vineyards to be used as fertilizer and they receive the scraps from the wine making process for feed for the goats. The result: incredible wine and cheese, which also just so happen to taste wonderful together. Love it!
I took dozens of photos at the farm, so if the few here aren't enough for you, you can visit the entire set of photos from our two days in Cafayate here. 22 August
From Salta, we traveled to Cafayate, about 4 hours south. This town is known for beautiful scenery and tasty wine. We enjoyed the scenery during our bus ride (nice bonus!) and got into the wine tasting pretty much immediately after we arrived. One of the things we liked most about Cafayate is that the bodegas are dotted around town and you can walk or bike between them really easily. No need to take a tour or worry about having a designated driver! Though not as well known as Mendoza, the Cafayate region is most famous for Torrontes, an aromatic white wine made from grapes that are only grown in Argentina. We generally prefer reds, but the Torrontes was great. It has a floral aroma, without any sticky sweetness. I am sure it would be great while lounging on your terrace on a warm summer afternoon, but we had no terrace and it was winter in Cafayate, so we focused on the Malbecs, Argentina's other famous grape. We started our tasting at Bodega Transito. We weren't too impressed with the wine or the staff at this place (though to be fair, the tasting was free, but they only offered the bodega's cheapest wines for sampling). From there, we went just across the street to Bodega Nanni, which was much nicer. This bodega features organic wines and for $4 (AR pesos – about $1USD), we were able to sample four of their lower priced range.
We considered purchasing one of their more expensive bottles (for about $70AR – about $16USD – you can get a great bottle of wine), but they were unavailable for tasting, so we decided to keep looking and possibly return later. From their we headed just a few blocks away to Pequena Bodega Salvador Figueroa. Here, we tasted our favorite wine of the day, Gualiama, an oak aged 2010 Malbec. This wine actually turned out to be our favorite from all the wines we tasted in Cafayate. Unfortunately, this vineyard only produces 6000 bottles each year (pequena does mean small in Spanish!), so it's unlikely you will be able to taste their wine unless you travel to Argentina! That night, we headed out for dinner at a place recommended by the guy at the desk of our hostel. El Rancho sat on the main square, a suspiciously touristy spot, but it was already 10pm and we were ready to eat. Luckily, he was right on. It was packed with both tourists and locals, and everyone was enjoying delicious looking food. Suhail had an incredible lomo and I had really good gnocchi (or as they are known here in Argentina, ñoquis).
I had been enjoying all the beef, but am not really that big a meat eater, lucky for me pasta is one of the jewels of Argentina's Italian heritage. Most parillas (grill-based restaurants) also offer fresh, homemade pasta. Yay!
21 August
When we returned to Salta, our original hostel was booked, so we stayed at Casa Mandalas, which they recommended. We never would have found this great place otherwise, because it's a family home located in a regular neighborhood and they don't even have a sign! One thing we love about staying in neighborhoods like this is the access to normal, every day restaurants and holes in the wall that we'd never find in a more happening part of town. This time it was an unmarked empanada joint.
There was no sign, but it was impossible to miss this spot due to the line that snaked down the street any time they were open. The second time we walked past, we gave in to our curiosity and purchased the best empanadas in Salta, and quite possibly Argentina and the rest of the world.
They were only sold by the dozen, so we got 1/2 meat and 1/2 chicken. They were both incredible. It was as if an wonderful stew had somehow been injected into the middle of the pastry. The pastry was light and flaky, but substantial enough to hold up against the fillings. A dozen may seem like a lot of empanadas, but they were gone before we knew it!
19 August
We booked a horseback-riding trip that took us just outside of Salta to an estancia (ranch). The trip included riding in the morning and afternoon, with an asado (bbq) in between. It was chilly and damp, but we had the grill to keep us warm while we anxiously awaited our feast. Argentinians know beef, but the cuts of meat served here are a bit different than those in the US and not just in name. The photo below shows a helpful primer for ya.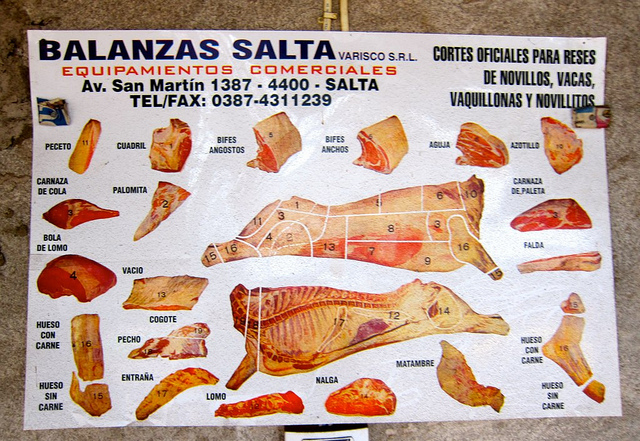 17 August We arrived in Argentina expecting beef, wine…more beef, more wine…and we were not disappointed! However, Argentina also held unexpected surprises such as the best empanadas in South America and amazing ice cream. Join us on a culinary journey that may not reach far and wide, but will be incredibly delicious!
Our first day, we just wandered around the city. We checked out Plaza 9 de Julio, which is Salta's main square. It was a pretty nice day, and we were thrilled to find good coffee at Havana, an Argentinian chocolate shop chain. We sipped our coffee and people watched as the sun faded away. Perfect! That night, we enjoyed some Salta beer and dinner with our roommate, Jean-Paul. This time we had their very nice lager, but they also make a negra (dark beer). From what I can tell, both are only found around Salta province.
After enjoying some beer, we decided to venture out for dinner. Most Argentinians eat around 10pm – pretty late for us – but luckily we had killed enough time with the beer drinking to make it a respectable time for dining. We headed down the street from our hostel to a neighborhood joint with good steaks and pasta at great prices.  Our first steaks in Argentina were served "a la frontera," loosely translated to "hidden under a pile of potatoes and a fried egg." They were delicious and a steal at about $6US!