Vietnam
First and Foremost, a Word About Vietnamese Coffee…
That word is DELICIOUS! All over Vietnam you can find amazing coffee, small cups of very strong french roast, typically softened with the addition of sweetened condensed milk. The cost for these small cups of wonder? Usually about 50 cents. As you can imagine, Suhail and I made time for coffee breaks often.
Special filters are used for brewing. You can see the condensed milk at the bottom in the photo below (the typical ratio is 1:2 or 1:4 milk:coffee). The coffee drips down slowly creating a layer on top of the milk.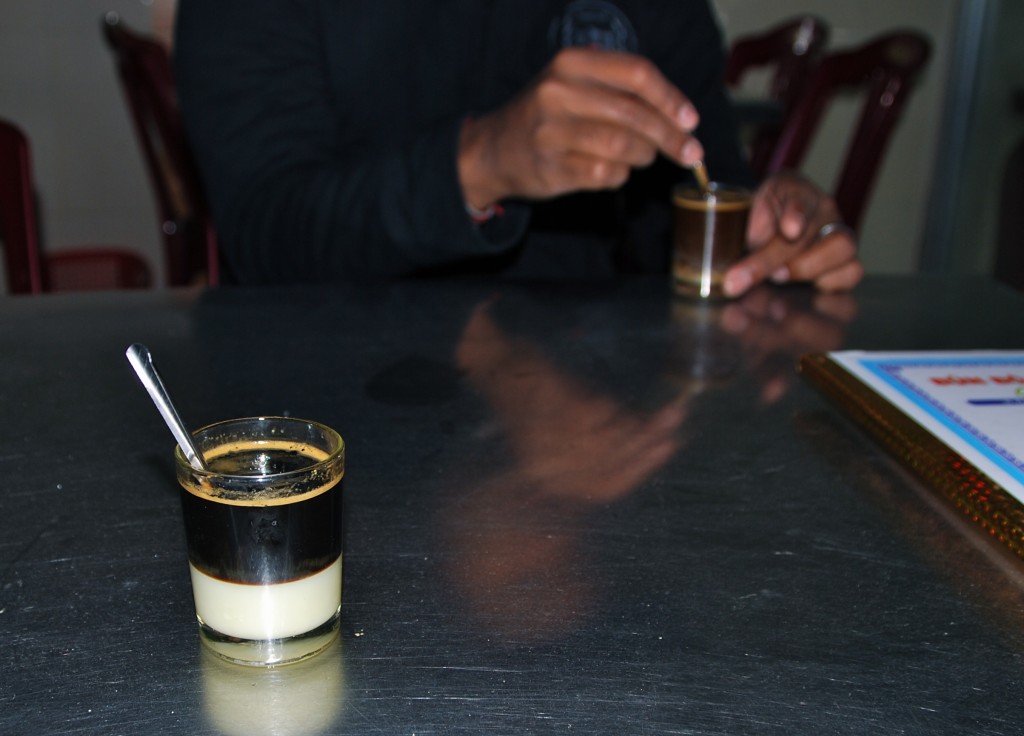 When the coffee is finished brewing the two layers are mixed together (as Suhail is doing in the background above). The result is a sugarey, caffeinated cup of goodness.
I bought a couple of filters to try at home, so for those of you in the Chicago metro area, please plan to join us as we attempt to create a cup even somewhere close to the ones we enjoyed in Vietnam!
Hanoi (18-22 Jan)
When we arrived in Hanoi, it was freezing…so a lot of our diet consisted of Vietnam's delicious noodle soups. There is enough variety in the types of noodles, meats and condiments that we never grew tired of these masterpieces in a bowl.

On our last night in Hanoi, the owners of our hotel (Camel City – recommended!), invited Suhail and me and all the other guests to join them for dinner. It was such a nice gesture and a great way to get to know them and our fellow travelers a bit better. Our dinner party included a few other Americans, Canadians, Germans and a Welsh guy (I'll let you guess who's who (c:).
Hue (that's pronounced "huway") (13-17 Jan)
Hoi An (11-13 Jan)
Hoi An is known for food, but maybe we just weren't eating in the right places, because we weren't all that impressed. The most famous local dishes are cao lau (a pork noodle dish) and white rose (a sort of shrimp filled dumpling). We did try both and thought they were alright, but since we were eating on a dimly lit patio, I didn't bother with photos. There were a few things we did enjoy while we were there that I did photograph, however…
While in Hoi An, we got our first taste of bia hoi, or "fresh beer." This beer is unbranded and sold straight out of the keg by numerous restaurants.
Bia hoi production is informal and not monitored by any health agency, which is probably why it is found at bargain prices, like 3000 dong a glass (about 16 cents). Ok, 3000 dong was the cheapest we found…more typically bars were charging about 5000 a glass. Luckily, the stuff isn't very strong (about 3% ABV) or bargain hunters like Suhail and me would probably still be sitting at this bar in Hoi An!
We also made some new friends, thanks to bia hoi. LOCAVORista and thinkCHUA (posting on LivingIf) are fellow Midwesterners, bloggers, and bargain hunters, apparently. We met them at a restaurant near our hotel in Hoi An, where we all enjoyed a few bia hois, and then ran into them again in Hue at the local cheapest bia hoi place we could find. At least our habit is social!
Kon Tum (9 Jan)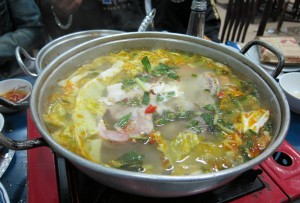 While on the road with the Easy Riders (more on them later), we ate at many great local spots where we were the only tourists. It seems the only one I took any photos of was the night we splurged and got Vietnamese hot pot. Hot pot dining is a communal way to eat. A gas burner and pot of stock and packages of dry ramen-style noodles are delivered to your table and you and your fellow diners pick your choice of meat, seafood and vegetables and then cook them at your table.
When we ate hot pot we also partook in another communal activity that seems to always accompany it: drinking. We had some ice cold Saigon beer and our first taste of Hanoi vodka. The vodka is drank by the shot, but not before a raucous group toast of "Mot, hai, ba YO!!!"
Mekong Delta (3-4 Jan)

Tourists flock to the Mekong Delta to see the unusual floating markets and to get a taste of rural life in southern Vietnam. From Saigon, you can book 2 day/1 night tours for as little as $39 all inclusive. While that is an incredible deal, it also involves being a part of a tour group of 35-45 and going to all the same places the other dozens of buses of 35-45 tourists visit. So, we decided to pay a bit more and go with a tour that visits a different part of the Mekong Delta (Vinh Long). We also chose our tour because it included a homestay with a Vietnamese family and an informal cooking class with our hostess.
Soon after we arrived, we ate a delicious lunch she had prepared. While I am sure it was far more lavish than the typical Mekong lunch, it did include traditional dishes, like pumpkin soup, stir fried noodles, sauteed long beans and a tasty anchovy dish (made from the same type of anchovies used to make nam pla, the fish sauce so vital to Vietnamese cooking).
After a bike ride through the rice paddies where we had worked up quite an appetite, we returned for our cooking class. It was really not much more than a way to get us to help out with dinner, but I was happy to learn some new recipes and techniques. Apparently, few of our other fellow tourists felt the same way, because when the time came to begin our class, everyone except an Australian couple (Belinda and Tyson) and Suhail and I disappeared! (One even claimed he had stomach issues, from which he seemed to miraculously recover, just as dinner was being served!). At any rate, it was their loss because it was a great opportunity to cook along side an expert. Since there were so few of us, I do feel we got a pretty good handle on how to make the fried rice and spring rolls. While not the most complicated dishes, they were delicious.
While we took care of the  spring rolls and fried rice, our hostess made a few other dishes appear like magic when we sat down at the table. Again, I am sure we ate much more of a feast than a family would typically enjoy, but it was nice to try so many home cooked things.
I wish we would have learned how to make the lemongrass chicken she served because it was one of the best tasting chickens I have ever eaten (although I believe she killed the poor thing that very morning in the backyard, so I am sure the freshness also had something to do with that!)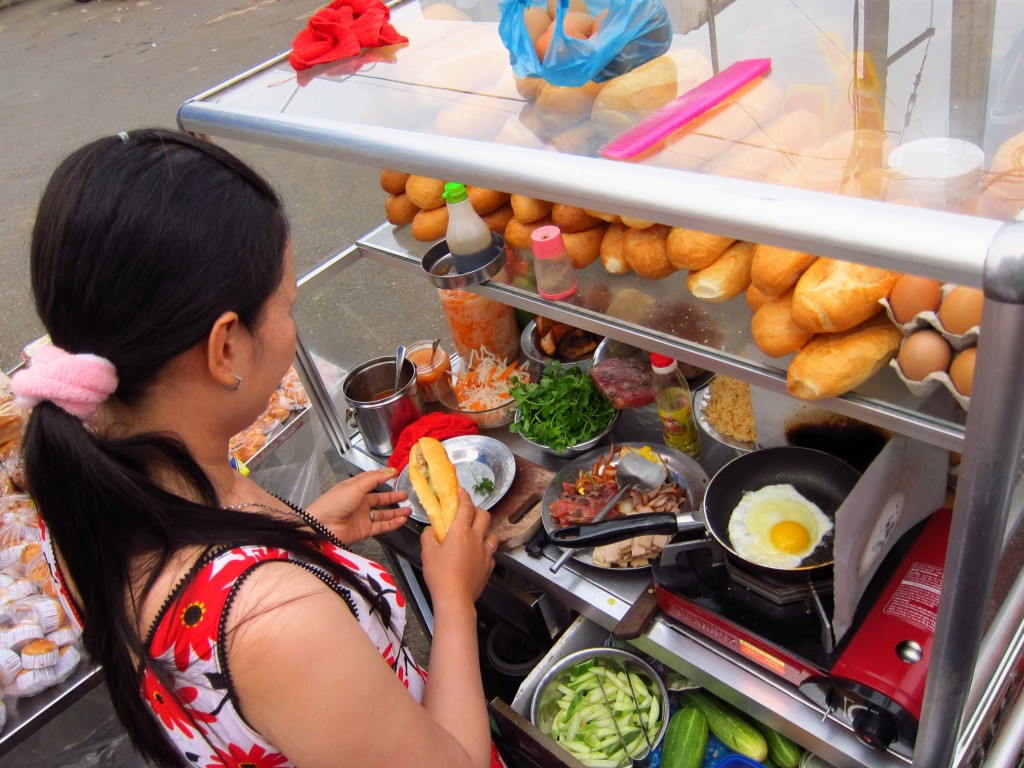 The following morning we toured the floating market by boat and then visited a regular market where we ate breakfast. Suhail and I eat banh mi in Chicago whenever we have the chance, so we were excited to try the real thing. A special treat which we hadn't had before was the fried egg this vendor included on request. The baguettes are made with rice flour, so they have a crispier, airier texture than what we are used to. This crispiness is a great contrast to the egg and meat (this one had pate and head cheese). Fresh cilantro, pickled carrots and daikon and chilis add a wonderful bright flavor to round out the sandwich.
Check out our short bahn mi video: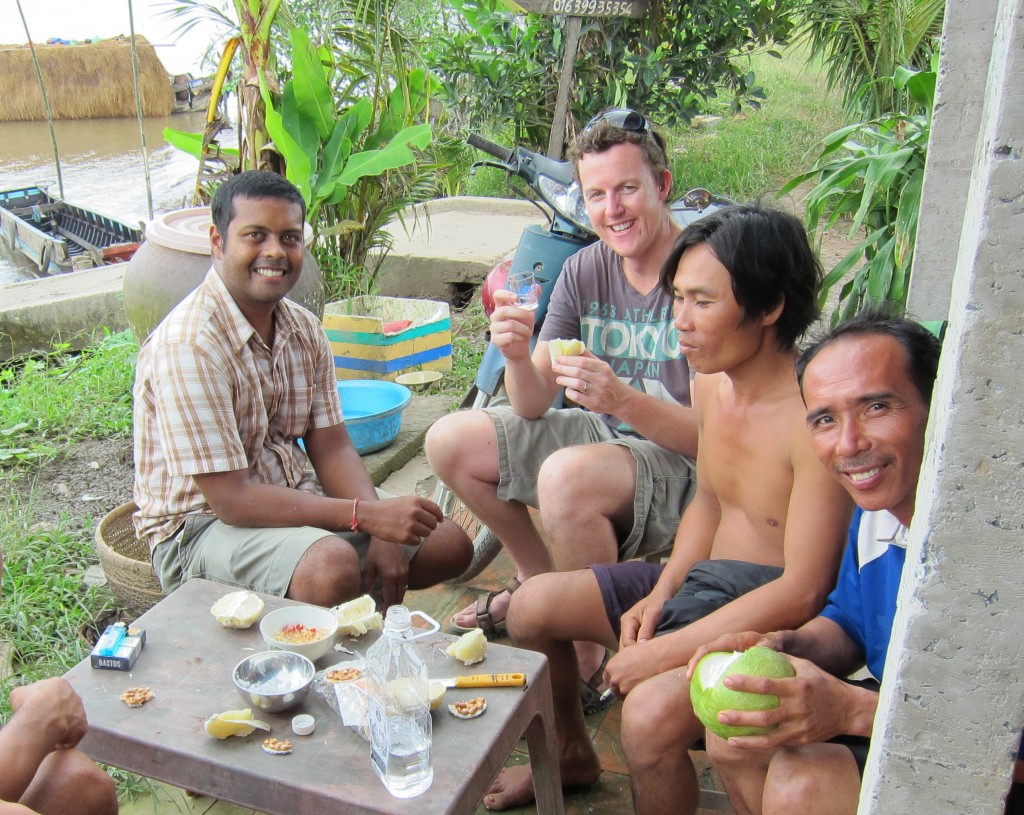 We really enjoyed our visit to the Mekong and were very happy we decided to go with the less touristy option, even though it was a bit pricier. We never would have had the unique experiences we did with a larger group and probably not even had we tried to do it on our own. While waiting for the ferry back to our minibus, this group of local men called Suhail and Tyson over to share some of their home brewed (home distilled?) rice wine and fresh pomelo (like a grapefruit, eaten with salt & dried chili). For a minute, I felt like we'd stepped into an episode of No Reservations!
Ho Chi Minh City
We spent the new year holiday in Ho Chi Minh city and got to enjoy our first bowl of pho in Vietnam that morning. We had pho several times in Cambodia, but, of course, it was even more delicious when eaten in Saigon!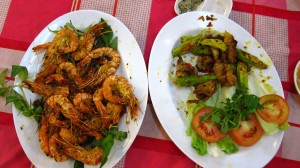 That night we had dinner at a huge open air hall with hundreds of Vietnamese revelers before heading into the city center for the big celebration (for video of that, click here). Since it was a neighborhood restaurant, we had a bit of a challenge ordering, but once they found a staff member with a bit of English, we were able to order shrimp with chili and goat with okra. Add that to a couple of bia Saigon over ice (although it sounds like a crazy way to drink beer, it is welcome refreshment in the heat and humidity of Ho Chi Minh) and you are really living!
Once we headed downtown, the beer halls filled with locals were a bit hard to come by, so we had to make due with fancy overpriced cocktails. With freshly squeezed and muddled fruit, however, they were delicious and a great way to send out 2010 and bring in the new year. Just look how excited they made Suhail…