Chile
We didn't know much about what to expect to find on the table in Chile…with 4000 miles of coastline, some good seafood, for sure, but other than that, we'd no idea! We were lucky enough to stay with the lovely Rencher family in Santiago, which meant we could also eat home cooked food (yay!). This also meant our exposure to Chilean food was limited.
5 August
Our first day in town, we visited Taveli Cafe, not very Chilean, but a great spot for coffee and sweets. The Chilean coffee drink of choice is the cortado (coffee topped with steamed milk and a bit of foam), which is what Suhail chose (in the background here), but I went for a cappuccion. We were pleased to find the pastries, cookies and cakes in Chile are delicious!
6 August
The Mercado Central (Central Market) is not as broad as its name suggests. It is mainly a seafood market that also has several <fairly touristy> restaurants that feature great fresh seafood. We went with the intention of having a look around, but were actually hungry when we arrived, so we didn't get too far before giving in to one of the restaurants' hawkers. We ordered simple fish and cheap wine. It was a decent meal in a cool setting, worth it for the experience.
After our lunch at the market, we decided to wander around the center of Santiago a bit. We came across a strange Bolivian parade that occupied us for a bit and then decided to get a coffee. The first place we came across was one of Santiago's famous "cafe con piernas," or coffee with legs, spots. These cafes have been around since the 1960s and we'd seen one on an episode of No Reservations, but hadn't really had a visit on our itinerary until we were literally standing in front of Cafe Haiti, looking for a spot to get a coffee.
The whole concept is a bit strange (lovely ladies in tight dresses serve you coffee), I loved the decor, which clearly hasn't been updated since the 60s and it was nice to just have a quick cortado at the bar…and, surprisingly, the coffee wasn't too bad.
7 August
Suhail was really excited to try choripan, which is a chorizo sausage (the "chori") in a bun (aka "pan" in Spanish), so on a lazy Sunday, we decided to make our own. They were pretty tasty.
9 August
On our last day in Santiago, we headed back to Central Market, this time to buy some delicious fresh fish to cook back at home. We wanted to thank our hosts with what we hoped would be a delicious meal, and the salmon from the market did not disappoint. It was so fresh, we just kept the preparation simple, a bit of butter, salt pepper, parsley and lemon was all it needed.
I couldn't resist making mashed potatoes to go along with it…one of my favorite foods!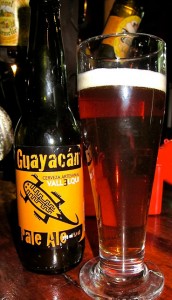 8 August
We were surprised to find that, in addition to good wine, Chile has some really tasty beers. There are a lot of microbrews and we sampled several while we were there.
During our day trip to Valparaiso, we tried Guyaca. We stumbled upon a weird Irish pub that had a great beer selection. Suhail had the stout and I had the pale ale. Both were really tasty.
10 August
From Santiago, we headed north to San Pedro de Atacama – a 23 hour bus ride. Kirsten had told us we would go through an area known for its alfajore vendors and, about an hour and 1/2 into our ride, sure enough, one hopped aboard and started selling fresh, delicious alfajores.
An alfajore is basically just two cookies (sometimes shortbready, others more soft and cake-like), filled with manjar (caramel, also known as "dulce de leche" in Argentina, where alfajores are also incredibly popular) and coated with chocolate or rolled in very finely shredded coconut. This time, we chose coconut and we got flakey almost biscuity cookies and very good manjar. Nearly everyone on board bought bags full of cookies, and we were not disappointed!
11 August
When we arrived in San Pedro, we decided to try to find a decent, affordable spot to eat. San Pedro is touristy, so there are plenty of restaurants, unfortunately, many are not so budget-friendly. We managed to find a few good places, one of which was the first place we went – Solcor, which is just of the main street (Caracoles). We both had churrasco Italiano sandwiches, which were huge and delicious! This is a typical Chilean sandwich, found all over the place. "Italiano" means thinly sliced meat (in this case steak, but often pork) is topped with tomato and avocado and smothered with mayo. This one was a great start to our visit to San Pedro.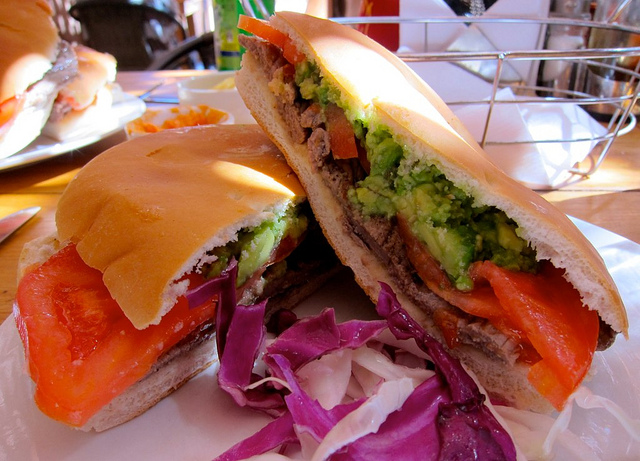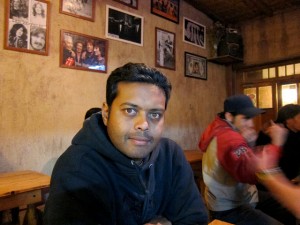 Later that day, we headed to the only bar we found the whole time we were in San Pedro. I don't know what it is called, or if it even had a name, but I loved the atmosphere in this place. They don't serve food and only offer beer but it always comes with a dish of peanuts and lots of character.
Suhail chose a schop (draft) Cristal, the Budweiser of Chile, and I tried Cerveza Austral. Austral is a Patagonian brewery that has a few varieties of beer. This time I chose the Calafate Ale. Calafate is a fruit, but as I was recovering from a cold, it did not taste too fruity to me, but Suhail assured me there was a fruity undertone in there.
12 August
We searched for decent coffee almost the entire time we were in San Pedro, but it was a search in vain. It was fun to try though, because we got to at least visit some of the restaurants we couldn't afford for dinner. There are a lot of cool adobe/thatched roof spots in San Pedro and all seem to be pretty cool inside. The photos above and at left are from Todo Natural on Caracoles.
That same afternoon, we went on a tour of the Valle de la Luna area out in the desert. Our tour included watching the sunset/moonrise over the Valle de la Muerte and pico sours. These cocktails are similar to margaritas, but their main ingredient is pisco, a liquor claimed by both Chile and Peru as their own. What a great end to the day!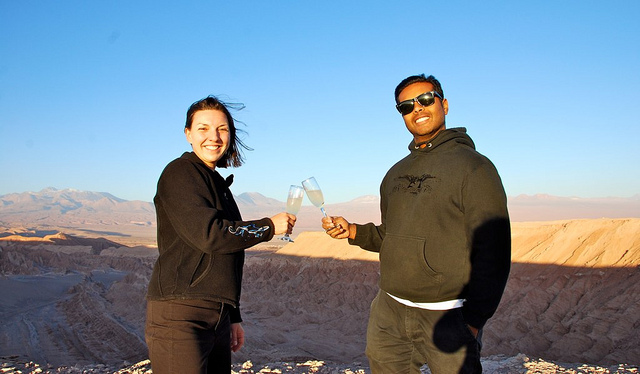 13 August
The other big attraction in San Pedro is the Tatio Geyser area. All of the tours from San Pedro leave at 4am and arrive at the geysers in time for sun rise and breakfast. They offer coca tea as it is thought to help people acclimate to the altitude. Suhail is enjoying his coca tea with a regular old cheese sandwich.
At the end of the tour, we also visited the town of Machuca. After the deaths of the sulphur mining trade, his town was losing population fast (I imagine the tough climate did not help matters), but recently tours have begun stopping there and locals are selling food and handicrafts.
There were just two women working away in this simple kitchen…but I believe all their offerings were deep fried!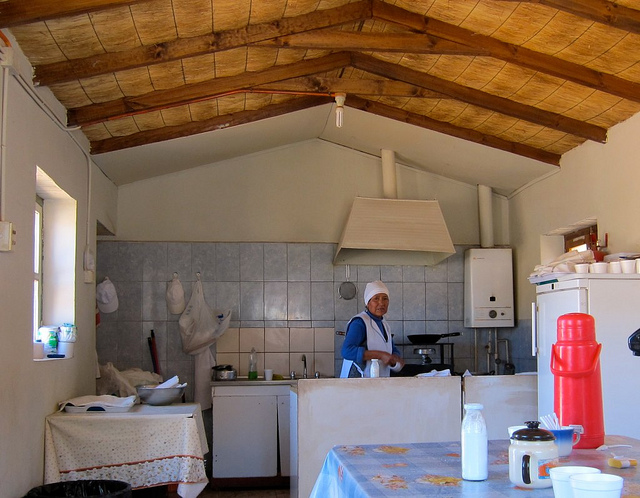 We tried a cheese empanada and a sopapilla. The sopapilla is basically fried dough – not al that different from a funnel cake or elephant ear, really!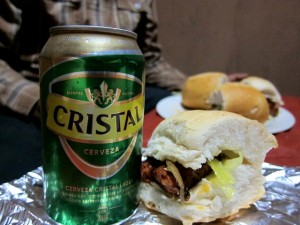 14 August
We did a bit of cooking at the hostel, and decided to make more choripan. This time Suhail washed it down with a Cristal…how very Chilean!
15 August
As a budget traveler, you end up eating a lot of empanadas. They are cheap, filling and usually really good. These were some of the best we had. I opted for chicken and Suhail had pino. The pino variety are filled with meat, a hard boiled egg and olives (which are NEVER pitted!).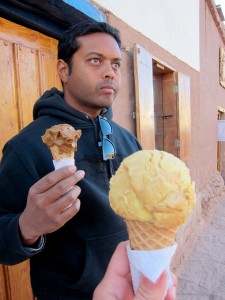 I had been wanting to try Babalu Ice Cream for days. Not only do I love artisanal ice cream, I loved the name! Babalu did not disappoint. We finally made it there on our second to last day in town, and I then, of course, dragged Suhail there twice in two days. Between the two of us and the two days, we tried amaretto, pistachio, berries & cream, manjar and lucuma (a Chilean fruit I never got to try fresh) with manjar. All were creamy, rich and delicious.
31 August
After a couple of weeks in northwest Argentina, gorging ourselves on steak and red wine (see here for more), we headed back to Santiago to catch our flight to Buenos Aires. We decided to watch the Bourdain Chile episode again to see if he had any more helpful hints on making the most of our time at the dinner table. We decided to check out one of the restaurants he visited, Fuente Aleman. This place looked great on the show – a real tried and true place that hasn't really changed a bit over the years, sort of like a German diner you might find in Wisconsin. We headed there for lunch on our last day in Chile and it completely lived up to our expectations. We knew we were in for a treat when we asked a street vendor for directions and he could hardly contain himself as he went into a sort of rapture at just the mention of the name "Fuente Aleman."
The place has a lot of sandwich options, but we went for the Lomito Italiano, a sandwich of thinly sliced pork, topped with the signature avocado, tomato and mayo. It was rich, indulgent and totally delicious! We washed it down with a schop (Escudo).