Spain
1 October
We arrived in Madrid after a 12 hour flight and were pleased to find our CouchSurfing hosts, Lauri and Fede, had planned a little get-together. We got to meet some of their friends and eat some tasty Spanish food (including ham and chorizo), but I did not take any photos…sorry!
2 October
We slept in (not only did we have a 12 hour flight from South America, there was also a 5 hour time difference to deal with) and finally made it out to a neighborhood cafe where Lauri introduced us to a traditional Catalan dish (even though we were not in Catalonia!), pan con tomate. A simple crusty toasted baguette is drizzled with olive oil over which goes crushed tomatoes and salt, simple, but tasty. We were also lucky to find this cafe served great coffee, which can be difficult to find in Spain.
3 October
Every time we mentioned we were going to Segovia, about an hour outside of Madrid, we were told we had to try the cochinillo (suckling pig). Second to the pig recommendations were those for the lamb. Any of you who know Suhail or have been following our food-related adventures will realize our choice was predetermined.
After seeing more than a few snow-white little pigs on display in restaurant windows, I knew eating them was not even an option for me, so lamb it was. I am sure the lambs are snow white and cute as well, but none of them were laid to rest in display windows!
The woman at our hostel suggested two different spots for lamb and, after checking them both out, we decided on Jose Maria. It seemed a little touristy, but not too bad. It was, however, a good deal fancier than our norm, but we decided to go for it.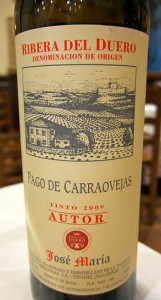 We ordered the oven roasted lamb for two and a salad (I try!), with a bottle of Jose Maria's own house wine. I knew the wine in Spain would be good (duh!), but I had no idea how affordable they would be. Even and Jose Maria, we paid under $15USD for a great bottle.
The lamb was also good, but a bit of a meat fest for me. I was probably more excited by our rich chocolate dessert, which was sort of a modern take on a chilled version of churros y chocolate.
Although I fell for those cute little pigs and could not bring myself to eat one, it was still kind of exciting when we got to meet the chef and see the presentation of a whole suckling pig when he came out to serve it to another table. I'll even admit it was pretty amazing to see the chef proceed to carve it – using only a dinner plate!
While we were in Segovia, we also checked out the tapas at the local watering holes. Unlike in the US, tapas are not meant to compose a dinner. Instead, you duck into a bar and enjoy a beer and a plate or two of whatever looks good. It's easy to see what looks good because the bars generally have a glass case (or two, one hot and one cold) right there on the bar. We hit two places in Segovia and they left on the prowl for afternoon tapas the remainder of our time in Spain.
6 October
Of course we had to taste churros y chocolate while in Spain! I'd been dreaming of them ever since my first Spanish class in 6th grade. Our text book was titled "Churros y Chocolate," and that was all I needed to fill my head with images of thick creamy hot chocolate and crisp churros, fresh from the deep fryer.
We chose Chocolateria Valor for our churro fix. The location was perfect (just steps from our Metro line) and both the chocolate and churros were hot, rich and delish. I think we met both our caloric and fat requirements for the entire month, but it was well worth it!
7 October
We arrived in Barcelona and did not quite know what hit us. I'd been once before, but that was all the way back in 1992 and both the city and I were very different! The Olympics also came to Barcelona in 1992 and they've been credited with playing a major role in transforming the city into the major tourist destination it is today.
We rolled into town on a Friday afternoon, so the city center was swimming with European tourists in for a long weekend visit, as well as locals ready to enjoy the weekend. We made our way to the incredible home of our CouchSurfing hosts, David and Eli, and were thrilled to settle in and find a moment of calm right in the middle of the action. They were able to help us navigate the sea of tourists to find the real Spanish places, and also show us some of their own favorite spots.
We started with dinner at one of their local favorite restaurants, Pulperia a Gudina. A pulperia is a restaurant that specializes in pulpo (octopus). Gudina specializes in food in the style of the Galician region of Spain. Everything we tried was simple and fresh, and since it was all served family style, the meal helped us feel more at home with our hosts (and hopefully, them with us!).
We ate pulpo with potatoes, pan con tomate, little grilled peppers, ham and razor clams and drank the house white, which was a typical Galician unfiltered wine. For us, it was an amazing food experience!
8 October
Any of you who are avid viewers of travel shows, especially those that highlight food, have definitely seen the hallowed ground of  Barcelona's Mercat de La Boqueria. In the course of our travels, we have been to more markets than I can remember, but I am always up for another, especially when, like La Boqueria, it features the best of a region's foods. Even after all those markets, La Boqueria did not fail to impress Suhail and me.
We headed over on a Saturday morning with David and Eli, because it's only about a 10 minute walk from their house, so they are lucky enough to be market regulars! La Boqueria is closed on Sunday, so the scene on Saturday was pretty insane with locals and tourists everywhere. There are dozens of vendors selling an incredible range of goods. We made the rounds to all of David and Eli's favorite spots and purchased everything from farm fresh eggs and just-caught shellfish to beautiful ripe fruit and interesting looking olives.
The market also houses a few bars where you can dine on pinxos ("pinchos" – Catalonia's version of tapas). We didn't stop to eat this time, but vowed to return before our time in Barcelona was up!
9 October
We could not leave Spain without trying some paella. We were told the best place to go was Valencia, but since that was not on our itinerary this time around, we had to settle for Salamanca…and not the city of Salamanca, but the restaurant Salamanca in Barcelona. It had a great patio with a beach view and great food, so we were pretty happy anyway.
10 October
We headed back to La Boqueria to check out pinxos at what is probably the most popular bar in the market, Pinotxo (Pinocchio). David and Eli pointed it out to us when we shopped together, but it was too crowded to stop then. They told us that the owner had a dog named Pinotxo and when the dog died, he opened the restaurant in his name. Today, everyone calls him Pinotxo and knows him for his incredible food. We tried only a few things during our visit (the place is not cheap), but they were all incredibly tasty.
We started it off with a dish we knew we'd crave long after we left Barcelona…I am salivating just typing about it now: PULPO!!! I especially like the chunky salt they use on many of the dishes in Barcelona. On this perfectly cooked octopus (tender, but not rubbery) and potatoes, its crunchy flash of salt creates the perfect foil.
We followed that up with a dish of chick peas cooked with butifarra (Catalan garlic sausage). This sausage is spiced with cinnamon, nutmeg and cloves, creating a rich, layered flavor and adding a warmth to the dish. Mmmm…this one was my favorite.
We finished it off with a grilled lamb skewer (again, they offered lamb and Suhail was dining, so there ya go…). As I've stated here before, not a huge lamb fan, but this meat was delicious. It was juicy and flavorful, without that musty lamb flavor that turns a lot of people off. If all lamb tasted this way, Suhail and I might finally agree on something.
Our tab at Pinoxto for three beers and three small dishes was around 30 Euro…not budget eating, but it was worth every penny!