Fort Cochin (20-22 Oct)
By the time we arrived in Fort Cochin, Suhail was almost back to normal and I was ready to slit my wrists if we spent another day driving! Perfect timing since there was plenty to do and loads of amazing food to eat in Fort Cochin.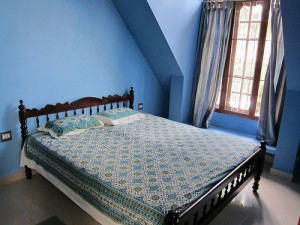 We arrived at our accommodation, Leelu Home Stay, and were greeted by the incredibly friendly Leelu herself. Much of the accommodation in Kerala is in homestays, which are, as you may have guessed, actual homes that have some accommodation available to tourists. Leelu's place has been in her family for generations and after being on the road for a few days, we felt fortunate to have such a clean and comfortable place to settle into for a bit. It is located in an area that is fairly touristy, but not too overly commercialized. Having been in India for a while, we welcomed the change and indulged our homesickness a bit (like hitting Kashi Cafe every morning for actual brewed coffee – not instant!).
After getting settled in, we went to check out the Chinese fishing nets. These nets are believed to have originally been brought from China (obviously!), but are now a popular tourist attraction in Fort Cochin. It is mesmerizing to watch the team of fishermen working the net and hauling in their catch. For a small donation, we were able to see the net up close and to chat with the friendly men at the helm. Check out our video below to see for yourself. You can actually select your fish from their catch and then have a dock-side stall cook it up, but we opted for restaurant meals the whole time we were in Fort Cochin. After tasting some of the most delicious meals of our entire time in India there, we did not regret our decision! In fact,other than the Chinese fishing nets, the majority of our photos from Fort Cochin are of the food and drink we enjoyed! More photos here