Quito, Ecuador, Valle de los Chillos – 30 June, 2011
After eight months of traipsing around, we decided to try something a bit different when we headed to South America. Suhail and I both have some experience with Spanish (thanks to classes about 20 years ago and life in Chicago in general), but we have always wanted to improve our grasp. We'd also read that Quito was a great place to learn, as the folks here have a more mild accent and slower manner of speaking.
Quito is not very touristy anyway, so having some Spanish is helpful and appreciated just about anywhere. Also, at this point in our travels, we are taking nearly any chance to get away from the tourist track (though sometimes it is inevitable, and well worth its drawbacks, when you are visiting an amazing spot!).
I did some poking around on the internet and we decided to "hire" Mariana Gonzales (Highly recommended! She can be contacted via her website).
Not only did Mariana offer years of experience, she and her family open their home to students, allowing them to have a more 24/7 experience with the language (Suhail and I are supposed to even speak to each other in Spanish at all times – this part is sometimes tougher than you may think!). We are thrilled with both our classes and our new living situation.
After spending our first couple of days in the city of Quito, Mariana met us at our hotel and we headed for her home in the Valle de los Chillos. This area is about 15-20 minutes by bus from the heart of Quito. It is rapidly developing, but is nothing like suburban America.
After my years' of urban planning classes, I finally really understand the importance of zoning!!! Our house is modern and not unlike a typical American home (bar a few things that take getting used to, like needing to purchase tanks of gas for both cooking and hot water – when we forget or miss the truck, we have cold showers or cold food!). The neighbors, however, live like farmers. As I write this, I am looking out over their cornfields, shack-like house and the incredibly rough dirt road between us. There is a lot of construction going on around here, and most of it is upscale, modern housing – including a nearby block of condos that looks sorely out of place.
At any rate, it is a very interesting place to live and gives us a much deeper understanding of life in Ecuador than we would have if we were staying in a hotel in the city and taking classes in the tourist neighborhood. Beyond just being here, we have been welcomed whole-heartedly by Mariana and her family – her husband, Frank, 16-year old daughter, Maria Jose, and 11-year old son, Jean Pierre (aka Salchipapa). We eat three meals a day with them and they actually want to hang out and take us on outings on the weekend. We do pay to stay here, but there is no way to put a price on all they have given us.
Here are some of the typical sights around our neighborhood – you will see the strange mix of suburban and rural clearly here!
the mountains are omnipresent and the streets are much steeper than what we are used to!
…and just a few of the sights we've enjoyed in and around Quito:
On our first weekend in town, the family took us to a traditional dance performance in Quito Colonial
After the show, we went to La Ronda, a fun, popular spot for both tourists and locals to wander around, enjoying street performances and canelaza (more on that here)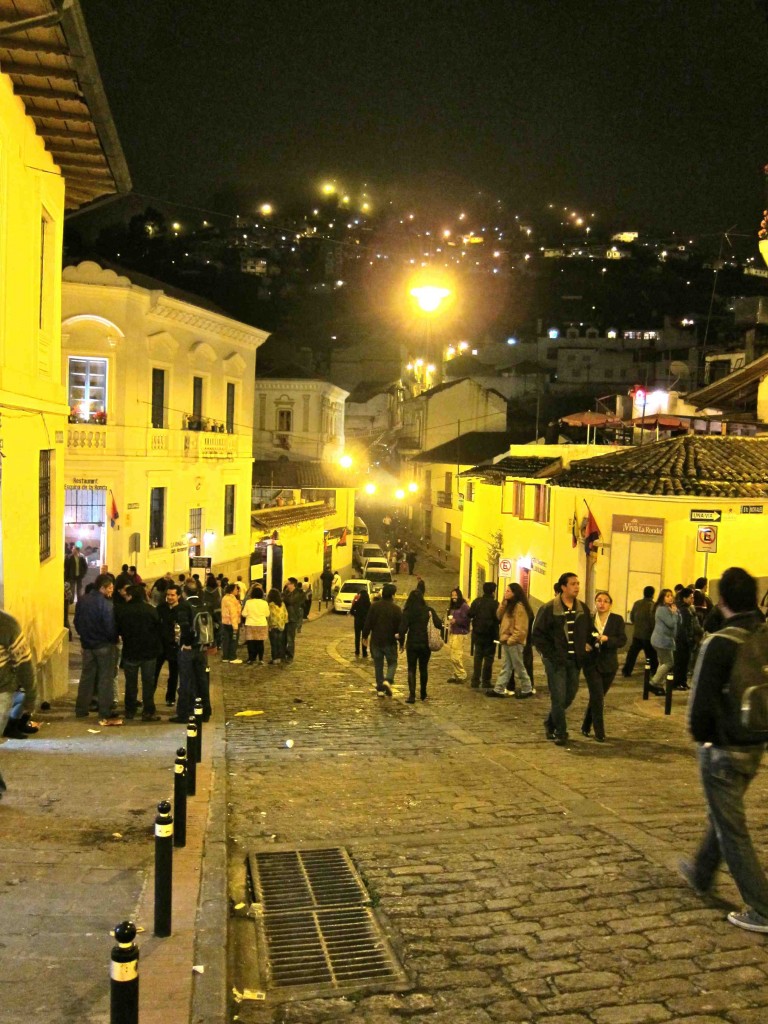 7 Comments