Loi Kratong Festival (21 Nov)
Loi Kratong is a festival we learned about after our arrival in Thailand. The main aspect of the festival is participants setting glowing krathong, which are like small rafts, afloat on rivers and lakes and sending paper lanterns off into the night sky.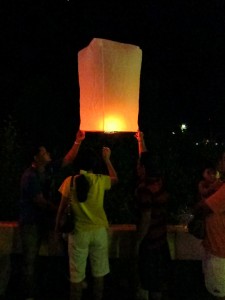 Kratongs floating away from the dock
We were really excited because by then we'd seen amazing photos of the festival and the beautiful lanterns floating on water and in the sky (they even grace the cover of the current Lonely Planet Thailand guide). Bobbi also mentioned they have supplies so their guests can make kratongs themselves before heading down to the festival.
We heard about a huge celebrations that take place in Chiang Mai and Ayutthaya, but our plans were not going to take us anywhere near those places in time for the festivities. In the two weeks that followed, we pretty much forgot about the festival, but when I called Sansuko Ville to reserve a room, Bobbi mentioned the festival was that Sunday and that the small village where we'd be staying had a great celebration every year.
My kratong
We were lucky to also have good instruction on creating the kratongs from Bobbi and Pui, a former Sansuko Ville staffer who had returned to help out. The base of the small raft is a piece of banana stalk, which you decorate  with banana leaves and flowers before adding three sticks of incense, a candle, 9 coins a bit of a fingernal and a few strands of hair.
The symbolism, according to Wikipedia, is as follows:
"Apart from venerating the Buddha with light (the candle on the raft), the act of floating away the candle raft is symbolic of letting go of all one's grudges, anger and defilements, so that one can start life afresh on a better foot. People will also cut their fingernails and hair and add them to the raft as a symbol of letting go of the bad parts of oneself. Many Thai believe that floating a raft will bring good luck, and they do it to honor and thank the Goddess of Water, Phra Mae Khongkha."
Mother/daughter vendors at the market
In addition to all of the flaming rafts and lanterns, there was a stage show (with lots of cute kids dressed in traditional garb) and a market with all kinds of food and drink. Suhail and I spent hours taking photos, wandering and snacking. It was a fabulous, dare I say magical, evening.
For the full set of photos, click here and scroll down to see a 3 & 1/2 minute taste of the evening, courtesy of Suhail…